Legal marketers have the tough task of trying to grow revenue in an industry that has seen a record number of mergers, acquisitions, and, of course, competition. They need new tactics, new technologies, and new processes to help attract and win new business for their firm.

The Legal Marketing Association's (LMA) annual conference highlights the latest trends and best practices that drive tangible results for law firms. As a result, more than 1,400 legal marketing professionals descended upon Atlanta for this year's conference April 8-10.

If you weren't able to attend but still want to benefit from the latest legal marketing knowledge, check out our infographic below for the major highlights. And read on for more insights from our top four LMA 2019 learnings.

1. Involve Lawyers in Content Creation and Promotion
Nearly half of C-suite executives say thought leadership content has had a direct impact on their decision to award business. But how can your law firm create the thought leadership content your audience is hungry for? Turn to your lawyers.

Your lawyers are subject matter experts (SME). So, make sure you involve them in your content creation and promotion plans. And most importantly—make it easy for them to write their ideas and share them with their followers.

For example, keeping your SMEs on a publishing schedule can help keep them on track. And consider an employee advocacy tool that allows your lawyers to share content with the click of a button.
2. Showcase Your Thought Leadership Through Video
If writing blog posts or articles seems too daunting for your firm's lawyers, there are other options for publishing thought leadership content. Video was one very popular method at LMA 2019.

The marketing efficacy evidence for video is compelling:L

78 percent of businesses saw website traffic increases after using video
Social videos garner 1,200 percent more shares than text and images combined
Marketers who use video grow revenue 49 percent faster than those who don't
So, put your lawyers in front of the camera. Give them a topic to discuss. And press record. In addition to interviews and educational videos, you could create a brand video for the firm or a video case study.

And don't worry too much about start-up costs—your own cell phone can serve as the entire production studio. Both Google Play and the Apple Store have plenty of free video production apps that can help you take professional-quality videos without an expensive camera or sound equipment.
3. Use Social Media to Identify and Nurture New Business
When it comes to marketing, law firms—like any other business—need to put their message in front of their audience, wherever they might be. Today, with 2.7 billion users worldwide, social media platforms are an enormous gathering place for your clients, and one that can't be ignored.

Social selling also comes with some benefits, like more virtual face time with your clients and prospects, in addition to any email communications, phone calls, or in-person meeting.

And it's proven to be so effective that 50 percent of leading U.K. law firms attribute much of their new revenue to social media.

To replicate this success at your own firm, legal business development specialist, Jennifer Simpson Carr, recommends consistently reminding your lawyers that you have content (like those videos we talked about) that they can tweet about, like on Facebook or share on LinkedIn.

Related Reading: How Lawyers Can Master the Art of Social Selling
4. Bring Teams Together With Collaboration
David Burgess, the Publishing Director for The Legal 500, highlighted teamwork as the No. 1 weakness of all law firms. What's worse? Burgess collected this information not from the law firms themselves, but from their clients. Yikes.

Why the poor score? According to Burgess, legal clients feel that their firms don't collaborate or have many cross-functional capabilities, which stunts the growth of their services and diminishes the client experience.

If you want your law firms to be more successful in its cross-selling efforts to grow revenue from existing clients, you'll need to be better collaborators. Whether that's between business development and legal or across practice areas, collaboration needs to be a part of your culture.

Luckily, new technology can help you here. For example, Introhive's relationship mapping identifies the strongest connections your firm has with a prospective client. With this information, your business development team can collaborate with the strongest relationship holder on the best approach. (Request a demo to see how this works).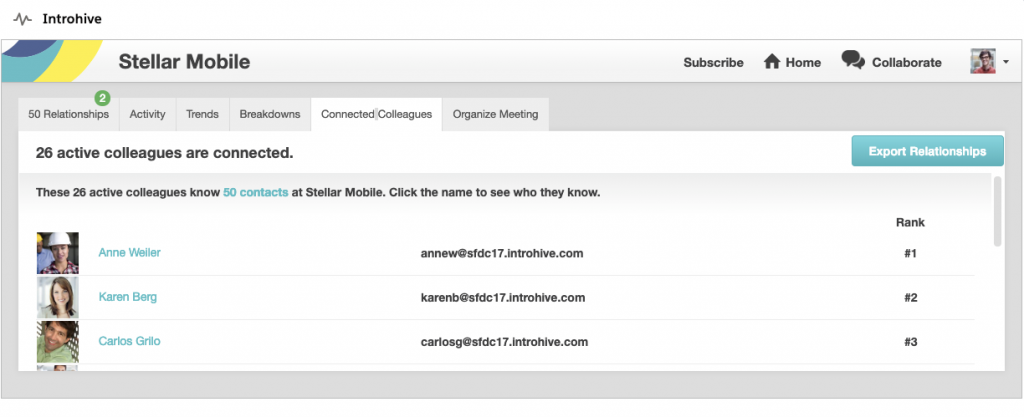 Related Reading: How to Create a Collaborative Workplace

Bonus: 4 Tips for CRM Adoption from Introhive's 2019 LMA Panel
Introhive's LMA panel on "Turning your CRM into an Insights Engine" featured experts from Reed Smith, Osler, and Smart & Biggar/Fetherstonhaugh. David Kirk, senior vice president at U.K-based sales, marketing and blogging platform, Passle, blogged about his top-four favorite tips from the panel:
Get internal teams on the same page
Focus on revenue growth
Deliver CRM with additional information
Act on your insights
Bring Your Firm Up to Speed
Looking for ways to help your firm grow in 2019 and beyond? Check out these four trends from the experts at the 2019 LMA Annual Conference:

Tap your lawyers for content creation and promotion
Build thought leadership cred via video
Use social media and selling to attract and win new business
Make teamwork your firm's No. 1 priority
Hungry for more ways to grow your law firm? Download our Legal Business Development Playbook for expert ideas.