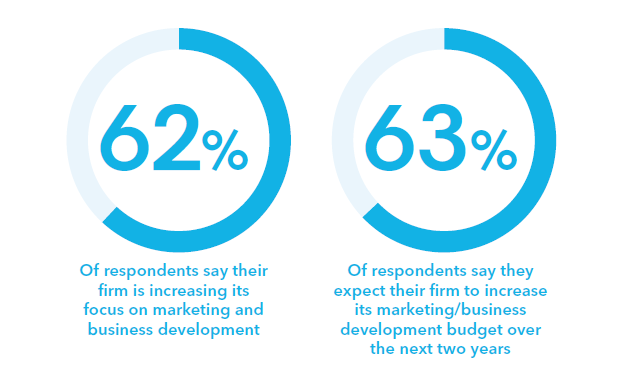 The latest Bloomberg Law and the Legal Marketing Association study has found that 62% of law firms are increasing their focus on marketing and business development. From greater internal pressure to generate revenue to corporate counsel reducing the number of firms they'll work with to other firms becoming more sophisticated marketers, firms are looking to their marketing and business development teams to help.
Image credit: Bloomberg Law & LMA Research Study 2018
For legal marketers and business development professionals, this is great news. Whereas law firms and their attorneys have been traditionally focused on legal services, counsel, and the day-to-day of serving clients, they're starting to increase engagement on the business development front to support client development and firm growth.
But with the pressure on legal marketers to grow the business and edge out the competition, what are some ways you can deliver?
Read on to discover what today's leading legal marketers are doing to rise to the challenge.

1. Get out from behind your desk
Nothing can replace face-to-face time with clients. And the study results reiterate that fact. Both attorneys and legal marketing professionals listed firm-hosted events and client meetings as the most effective tactics for developing new business.
Image credit: Bloomberg Law & LMA Research Study 2018
In addition, the study also found that 27% of attorneys would like to see more event planning and execution from their firm's legal marketing team. In other words, your attorneys want to see more events rolled into your marketing strategy.
Specifically, hosting and attending more industry events with your target clients in mind is a quick way to ramp up business development efforts. Before committing to an event, make sure that the right attorneys or partners from your firm are able to attend these targeted events, so they can network and have more face-to-face time with target accounts and key clients.
To make the most of those in-person interactions, help your attorneys go into those meetings prepared with insights and intelligence. For example, Introhive's Pre-Meeting Digest emails make meeting preparation easy by delivering relevant insights directly to your attorneys' email inbox prior to the meeting.
Pre-Meeting Digests contain important information like latest account activity, company news, relationship strength analysis, meeting attendee profiles, and more, to facilitate a more educated and meaningful client meeting.
2. Help attorneys embrace social selling
With 84% of B2B buyers using social media to make their purchasing decisions, it makes sense that social selling is an effective tactic for engaging with prospects and clients. And attorneys are finding success on social as well with 52% of attorneys reporting that social media was an effective way of developing new business.
Image credit: Bloomberg Law & LMA Research Study 2018
Social media isn't just for the marketing team. Encourage your attorneys to engage more on social media with clients and prospects, allowing them to build stronger relationships. You may even want to consider using social selling tools to allow for more efficient content sharing, audience targeting, tracking, and more. Your attorneys will appreciate any tool you can introduce that enables a more efficient, approachable and straightforward way to leverage social media for business development.
3. Go deep into your data with business intelligence tools
Your law firm's client relationship management (CRM) system is an important resource for business development and marketing. However, 60% of today's legal marketers and business development teams use business intelligence (BI) tools, compared to only 59% using a CRM system.
Image credit: Bloomberg Law & LMA Research Study 2018
If you're firm isn't currently taking advantage of business intelligence tools to analyze strengths, weakness or opportunities to the firm, you will find yourself at a competitive disadvantage. Every law firm sits on a wealth of information, but they do not always have access to the insights that help inform smarter business decisions. Business intelligence tools empower companies with complex data dashboards that help them analyze the mountains of data to distill down client insights and intelligence.
Our own customer, Fenwick & West LLP, is leveraging Introhive's relationship intelligence and automation to increase efficiency across their marketing and business development functions.
Specifically, the firm is integrating Introhive data with their CRM and financial system, and using tools like Tableau's business intelligence platform and Excel to analyze the firm's widespread data to improve data integrity, contact management and relationship intelligence. Click here to download their case study.
4. Focus on driving CRM adoption and collaboration
The above statistic includes responses from both attorneys and legal marketers. When their responses are separated, the study found that 73% of legal marketers believe CRM to be helpful, versus only 22% of attorneys. This disparity indicates that attorney's don't intuitively see the direct benefit provided by the CRM system.
Image credit: Bloomberg Law & LMA Research Study 2018
What your attorney's see is another technology that requires time investment to maintain and keep up-to-date. The mundane and manual process is what keeps adoption low at your firm. And considering that your attorneys hold all of the relationship knowledge and insights about clients in their heads and in their email accounts, poor data quality and low CRM adoption can hurt your firm's overall growth potential.
To get around this challenge, marketers need to focus on getting attorney data into their CRM without disrupting the users day-to-day process. For example, tools like CRM data automation reduce mundane data entry tasks for attorneys, so they can focus more on servicing their clients. This also keeps your CRM data clean and up to date, ensuring that when your attorneys do use the CRM system, they're finding accurate and helpful information.
Stay on Top of Legal Marketing Trends
From business development tactics to legal marketing tools, it's important for legal marketers to stay informed on the latest trends. Evolving and adapting based on these trends allows your firm to innovate and rise above your competition.
Make sure your firm remains a cut above the rest, by reviewing the results from Ackert Inc.'s State of CRM at Law Firms 2018 report.
For the full study results, view the full Bloomberg Law & LMA Research Study 2018.