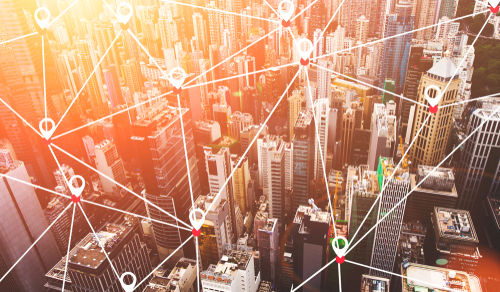 Across most of the business world, technology has become synonymous with efficiency and growth. Even the commercial real estate (CRE) industry, which has been slow to join the digital transformation movement, is getting on board. And today, CRE leaders are looking to digital technology to overcome new challenges and get the most out of properties.
In fact, more than half of recent CRE survey respondents said they believe technology advancements will have the greatest impact on legacy properties in the next three years. While 80 percent said the commercial real estate industry should prioritize the use of predictive analytics and business intelligence as the top focus.
To that end, about 73 percent of CRE firms now have customer relationship management (CRM) tools at their disposal. But many firms are struggling to get commercial real estate brokers and agents to adopt CRM tools, leaving the data inside underutilized and increasingly outdated.
Now, firms are on the hunt for ways to get the most out of their CRM tools by improving data collection, analytics, broker productivity, and sales effectiveness.
Here are our top five tips to quickly find the digital solution that's right for your firm.
1. Automate CRM data collection for higher quality insights
Despite an increased velocity of CRM onboarding and user training, CRE firms often find their data falls within the spectrum of underwhelming to obsolete. Why?
The fact is that brokers need to focus on building relationships in person, and that often takes priority over documenting activities in CRM. That's not to say brokers don't try—the average CRM user spends more than five hours a week on data entry. Unfortunately, that barely scratches the surface of what's needed to keep CRM information updated and complete. Colliers International in Canada certainly understands the struggle.
"It was a constant challenge to have our users remember to track their meetings, calls, and contacts to CRM," their CRM Manager, Neven Bradasevic, said. "Our users either saw it as a hassle or simply forgot to do it, which impacted the value CRM could provide our brokers."
So, what can be done to prevent data decay? The simple answer is CRM data automation. Automating data collection and cleanup is a win-win that not only keeps your CRM data accurate and complete but also frees up your brokers from busy work. (Request a demo from Introhive to see this in action).
Plus, because it breaks down information silos, automation also creates firm-wide visibility into important relationship insights, helping brokers close more deals, faster.
And when equipped with richer CRM data, firms can tackle the larger business intelligence and analytics projects CRE investors want to see.
2. Monitor both client and prospect traction
For years, multi-million dollar CRE deals have been made or broken based on the strength of relationships. But now, more buyers and sellers than ever are using digital channels to research inventory and find a broker or agent. And, in many cases, more experienced buyers are bypassing traditional agents all together.
This trend is forcing firms and brokers to double down on fostering strong customer relationships. It's one of the most challenging aspects of the trade, not just due to the sheer volume of customers, but also because tenants and prospects aren't always forthcoming about current sentiments and future plans.
That's where relationship scoring and analytics tools can change the game. They equip firms with a comprehensive, real-time view of relationship trends and sentiments. Using advanced algorithms, they score overall relationship health by measuring and tracking contact activity, showings, sentiment, and responsiveness.
Relationship scoring and analytics tools like Introhive can even be configured to send alerts about wavering clients—information brokers can use to save declining relationships or at-risk deals.

3. Customize the experience for every broker and agent
One of the biggest mistakes firms make is choosing a CRM that's not configured to support brokers' unique needs.   
Salesforce, Infusionsoft, and Microsoft Dynamics, are the most common systems at larger brokerage firms. But, while mighty, they require a great deal of customization and configuration before they can support the demands of a CRE firm.
Unless your IT team is planning ahead to include that workload, it can be a shocking bump in the digital transformation road. Worse yet, without that custom development, brokers will find little value in the new technology and adoption will suffer.
To tackle this, most firms use an in-house team to manage development or will hire a system integrator. Either way, the goal should be to streamline broker access to vital client information without adding to already packed workloads.  
One of the most popular examples of information streamlining is MLS integration with CRM, with nearly 40 percent of brokerages calling it a "most-used feature." And for good reason. Eliminating manual listing entry saves brokers a lot of busy work, and it makes it easier for them to locate similar properties for analysis at the same time.
4. Map every broker relationship in CRM
What if you could quickly and easily see a bird's eye view of all the brokerage relationships—who knows who, and how well? Tools like Introhive use relationship mapping make that dream a reality.
CRMs equipped with relationship intelligence solutions like Introhive can also boost warm introductions, which drastically increase business development outcomes.
Armed with this kind of insight, brokers can say goodbye to time-consuming—and often ineffective—tactics like cold calling new accounts or wrangling introductions from colleagues.
5. Equip brokers with pre-meeting intelligence
One logical fallacy of CRM is that it assumes users have the available time required to review client information that lives inside CRM before client meetings. The reality is brokers are always on the move and are rarely in the office in front of their computers. They need to prepare for meetings while on the go, but finding the time is challenging and isn't part of the normal workflow for brokers.
Like most sales professionals, brokers spend about one fifth of their time on research and meeting prep. What if they could instead use that time (almost a full work day) to engage with clients and close deals?
Tools like Introhive's relationship intelligence automation help make that possible, with features like pre-meeting prep reports. Delivered right to brokers' email inbox before each meeting, the automatic report equips them with relevant company news, historical meeting notes, activity reports and relationship trend analyses. No manual research required.
It sounds like magic, but it's pretty simple. Behind the scenes, Introhive's AI-powered platform compiles relevant client information from multiple data sources (like news feeds, social media, the internet, your CRM, etc.). Then it uses automation to email those insights to every broker before every client meeting. (Request a demo from Introhive for a more detailed look at how it works).
Get more value out of your CRM with new technology
As the commercial real estate industry quickly adapts to the latest wave of disruptive technology, CRM tools will be crucial to firms' success—supplying next-level information management, business insights, and customer value. But to reach their full potential, these CRMs will require complementary new technology to automate data management, monitor customer traction, centralize workflows and streamline the distribution of relationship intelligence.
Interested in learning how to get more mileage out of your current commercial real estate sales software, find more opportunities and close more deals?
Request a demo from Introhive today and read how Colliers International Canada generated 40 percent more relationships.