Your CRM implementation might fail. Let that sink in for a second.
It's a scary realization after investing significant time and money into researching, selecting, and deploying a solution. Research has shown that on the high end, upwards of 70% of all CRM projects fail to meet desired expectations.
Here is a link to a handful of other CRM adoption statistics that will probably keep you up at night. If you don't believe that stat, take a look at the graph below from a C5 Insight study.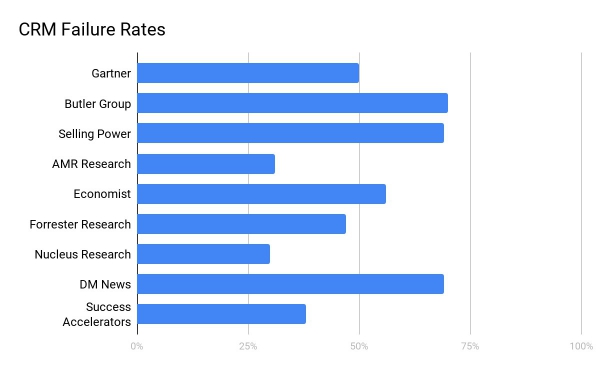 Source: C5 Insight
So, enough talk about the daunting CRM failure rates. How can you go about ensuring you remove the roadblocks in your CRM implementation process?
The first step is to have a rock solid CRM implementation plan. Without one, your CRM doesn't stand a chance and you'll find yourself explaining to your management and board why your CRM isn't bearing the outcomes they were promised.
As a leading provider of CRM data automation and relationship intelligence, we've seen first-hand what constitutes a successful CRM implementation plan. That's why we invited our good friend and partner David Whiteside, Director of Client Growth & Success at CLIENTSFirst Consulting, to weigh in on the topic.
---
David Whiteside
Director of Client Growth and Success
CLIENTSFirst Consulting
With over 20 years in the legal industry, David is an experienced legal business development expert. Today, David is focused on growing and expanding services and service levels for clients. David also spends his time building and managing alliances with key partners to provide additional value to his clients.
---
Step 1: Understand Your Culture and Limitations
If you're going to introduce any tool to your team, you need to make sure you understand your team and how they operate first. Otherwise, your CRM won't fit within your team's processes and values, causing the tool to go underappreciated.
Take stock of your team's unique strengths and weaknesses to help identify areas where your CRM could make improvements. By documenting these opportunities within your culture, you can also see areas where your CRM might impede or get in the way. With both ends of the spectrum identified, you can now tailor a specialized plan for integrating CRM into your culture and how it can benefit each unique member of the team.
Step 2: Set Measurable Goals for Your CRM
The first step to developing any plan is setting a goal. For instance, you need to have a sales goal before you develop your sales plan. To get an idea of some of the goals you should be setting for your CRM system, there are some questions you need to ask yourself.
What do you want to happen?
What results are you hoping to drive?
What does success look like?
Then, take those answers and transform them into measurable goals for you and your team. Your goals might be something like achieving a 90% CRM adoption rate, increasing your team's average deal closure rate by 10%, or speeding up your sales cycle by an average of one week.

Step 3: Create a CRM Implementation Plan
Now, it's time to roll up your sleeves and get down to the hard work. Here's our recommended steps for creating a CRM implementation plan that boosts adoption within your organization.
Get Buy-In From Key Stakeholders
When closing a new sales deal, you need to achieve buy-in from your prospective company's decision makers and key stakeholders. The reason for this being that the deal will experience fewer internal roadblocks and get the approval that it requires faster. This same approach should be applied to your CRM to receive approval and keep your implementation plan progressing.
To get moving on obtaining stakeholder buy-in, put some time on the calendar to meet with them. In your meeting, explain your reasons behind getting a CRM and how it will benefit them. In addition, ask them about their feelings towards CRM or perceptions of the tool. For your best chance at successful CRM adoption, you'll also want to find out what their priorities are in terms of problems you are trying to solve or operations you are trying to improve.
A big hurdle for most projects is data privacy and security. Privacy issues often manifest through an organization's reluctance to share sensitive data and information with CRM. Many times, this is often the number one cultural hurdle that will challenge a successful CRM implementation. Don't assume it will change or go away. Develop the CRM plan knowing it exists.
Pushback shouldn't stop you. It simply means you need to recalibrate.
Define What's Important for End User Groups
Once you have an idea of what your stakeholders are looking for in a CRM solution, you can work on delivering a CRM that solves their greatest pain points without sacrificing their greatest assets. Jot down all of the things you heard from your meeting, but toss out any contradictory responses. You don't want to tailor your CRM or implementation plan for one person whose opinion differs from that of the team. Instead, focus on what the majority identified as a priority concern or benefit and focus on those items.
Configure Your CRM
With your priorities identified, it's time to do something about them. The main functionality or benefit of CRM systems is inherent in their design, however there are countless additional features, add ons, and plugins that you can use to amplify the tool's usefulness.
For example, if your team only spends 20% of their time selling like most modern day sales teams, CRM data automation tools make sure that your team spends more time with clients and less time on manual data entry.
Source: Docurated
To create the most effective tool, take your identified priority items and use them as inspiration to help your CRM fit the needs and wants of your team. Perform your research carefully to make sure that the CRM enhancements you select can integrate seamlessly with your selected CRM. When looking for tools, we suggest using sites like G2 Crowd or Capterra to find the top rated tools with helpful user reviews.
If finding solutions for all of the priorities you've identified sounds unattainable, try narrowing it down.
A good rule of thumb is to start by focusing on the top three requirements that will really move the needle. The more tightly you can identify the top three and why they are important to each user or group, the more adoption you can expect.
Configuring your CRM is a vital step in implementing your CRM as it ensures that the tool serves as a solution to a common problem and helps your team reach their goals.
Outline a Communication Plan
Now that the tool is all set, it's time to introduce it to the team. Like with any organizational change or new process, make sure you share how it will benefit them when outlining your plan. Explain in detail how the CRM will improve their lives, help them exceed their quotas, and avoid interrupting their work. After you've written your communication plan, double check to make sure it sounds more like "this awesome tool will help you" and less like "we purchased a new tool and we'd like you to use it." Your messages need to be about them, not you.
Train CRM End Users
Unless your team already knows how to get the most out of their CRM, they'll need some help to learn how to use the tool. And while videos and group trainings can help your team grasp the basics, it's best to give each person an individual training session. This way, you can walk each person through how to use the tool in a way that is relevant to them. Sound like a hefty time commitment? It probably will be, but without it your team won't know how to reap the benefits of the CRM system.
Review Data Quality
A CRM is only as good as the data in it. As your team continues to use your CRM, review the system regularly to make sure prospect and client information is being entered and maintained correctly. And before you think that your data is accurate, you should know that 30% of your client data, no matter how accurate, will become obsolete in a year. Tools like Introhive, can help keep your CRM data clean and up-to-date without costly annual projects to scrub your database.
If you allow poor data quality to corrupt your CRM over time, your team will begin to distrust the tool and usage may decline. This means you need to stay vigilant or install automation tools to ensure your data is clean and providing helpful insights.
Learn More
If you can follow the steps above to create a proper CRM implementation plan, your CRM will fit perfectly into your company culture and become a critical tool for your sales and business development team. For more advice from David, be sure to check out his recent article on tax auditing your CRM. 
Still having trouble with your CRM implementation? Review these common CRM implementation issues and how to overcome them or watch the webinar "Is Your CRM in the Best Shape It Could Be In?" hosted by David and Introhive's Sales Director, Joe Przybyla.