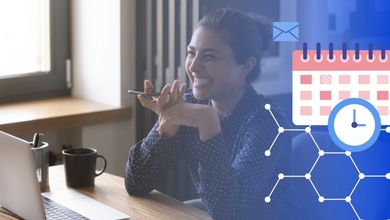 Ever wish you could set back the clock on your workday to fit everything in?
Does quitting time sneak up and leave you wondering where the day went, and how you actually spent your time?
Or maybe you know exactly where those hours went: mundane, manual tasks. Distractions from more important work, done in bits and pieces. Time wasted doing favours for others.
Sound familiar?
It's been reported by Forbes that not only are salespeople spending most of their time on "non-revenue-generating activities," but that only 22% of sales reps use any kind of time management methodology.
Don't worry, we got you.
Here are some tips on how to reclaim hours in the day. These best practices include how to work smarter, master time management, use your calendar like a champ, learn to say no, sleep more, and how to automate away annoying CRM chores. So, let's get started.
Work smarter not harder
Sounds easy, right? But getting more work done in the day doesn't necessarily mean working longer hours or working faster, or taking on way too much. That's just a recipe for burnout, distracted work, and poor quality work. Working smarter means using your time more wisely, planning ahead, getting organized, knowing when to delegate, and prioritizing your most important tasks. Among other things.
Better time management
Most people like to think they're great at time management, but it's harder than it looks. It requires some study and lots of discipline. Knowing your goals, having set deadlines for yourself, tracking your progress and staying focused on results are all great ways to improve your time management skills. Also, sticking to a consistent workday schedule with a dedicated lunch break helps.
Schedule tasks with a calendar
Using a calendar sounds like a no-brainer, but it's easy to get caught up in verbally-made appointments, sporadic notes throughout multiple note pads, or just straight relying on your memory. Make it a priority to schedule everything in your calendar, and schedule the tasks on your to-do list the same way. If you don't set aside time for specific work that needs to get done, it can slip through the cracks.
Learn to say no
Being a team player is one thing, but constantly taking on extra tasks that aren't part of your job description, working overtime, or simply doing favours for others that eat up your day isn't a sustainable way to do your job well. It is possible to stay focused on your goals and priorities and use your time wisely, all while being a supportive coworker.
Harness your productivity (take naps!)
Yes, we said naps! If your employer supports in-office naps, or if you're working from home, they can be a fantastic way to harness your productivity and do better work. Simply put, rest when you need it, do your best work when you're feeling the most energetic and tuned in, and you'll make better use of your time—plus you won't feel tired or burnt out.
Automation wherever possible
Save yourself boatloads of time by automating any mundane tasks that eat up your workday. For example, there are CRM automation software (or similar) solutions out there that can automate data entry for you—quickly, easily and are part of a long-term solution. Not only can these tools clean up your existing CRM data, but they can also automatically keep it up-to-date without any work on your part. Look for solutions like these for all areas of your work life, and get back those hours to focus on your most important tasks.
Do more with the time you have
If you're constantly wishing there were more hours in the day, you are definitely not alone. Spending too much time on manual tasks like filing or data entry when there's so much other work you want (and should) be doing, just isn't cool.
And, we would bet money the days you pick away at CRM upkeep are the ones that are most unfulfilling, and well, let's face it… kind of feel like a waste of time.
Stop letting your workday get away from you. Try out our tips above, find ways to automate mundane work, and read up more about time management vs self management in our blog post all about that. You got this!
Want to learn more about Introhive as a tool to automate your CRM data entry? Let's talk.