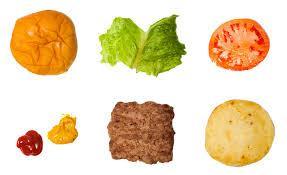 A few weeks ago I was at a conference out of town and decided to head down to a local restaurant. It was a gourmet burger joint that I heard about from a few locals as they expressed it was a hidden gem and a must-visit spot.
I looked through the menu and my eyes were glued to a burger they called the Barkley. It had multiple types of cheese, a wide range of bacon strips, a handful of vegetables, some spices and a pineapple slice to top it off. It sounded like the perfect dish and the perfect dish it was.
Imagine though, if I had ordered the Barkley and the waitress came back with all these ingredients on a platter and expected me to put it together myself. Yes, I could probably do it but I would not only struggle but I'd also be less likely to leave a tip. I would think less of the chef and frankly, I would feel robbed of the experience.
This analogy represents a problem that is happening in organizations across the globe. Surprisingly, many marketers are still sending their sales teams leads that are far from ready to be put into the sales funnel. Marketers are running social media campaigns and content marketing initiatives to generate a bit of traction. From there, they start sending raw leads to sales with the hope that they'll dig in and close.
This is a mistake that organizations cannot afford to make.
It's important to educate your marketing team on the importance of nurturing leads before sending them to sales. You see, there is a significant difference between someone who is a lead and someone who is simply interested in your content. Marketing needs to not only qualify a lead but also make an effort to get them to a place where sales can do their job effectively.
Most leads that marketing generate are not ready to buy. It's important for marketing to recognize this and ultimately strive to help sales by building trust with prospects and connections overtime.
The first step is to make the prospect aware of your business offering. Educate them on your product and educate them on the value proposition. From there, the next step is to convince them that your organization is truly an expert in the specific field. Once that's complete, it's time to deliver a message that conveys how your business can solve their problems. Once the prospect is a believer and understands how your business can solve their problem; it's time to send them to sales.
Simply put, the days of sending raw leads are over. Marketing and sales need to be in the same kitchen and be focused on establishing a sales process that is fluid and effective. Nurturing leads can ensure a return on investment for both sides and ultimately drive meaningful and measurable results.
Do you have any experience in sales working with marketing? How do you work with your marketing team? Do you think sales and marketing can play nice?