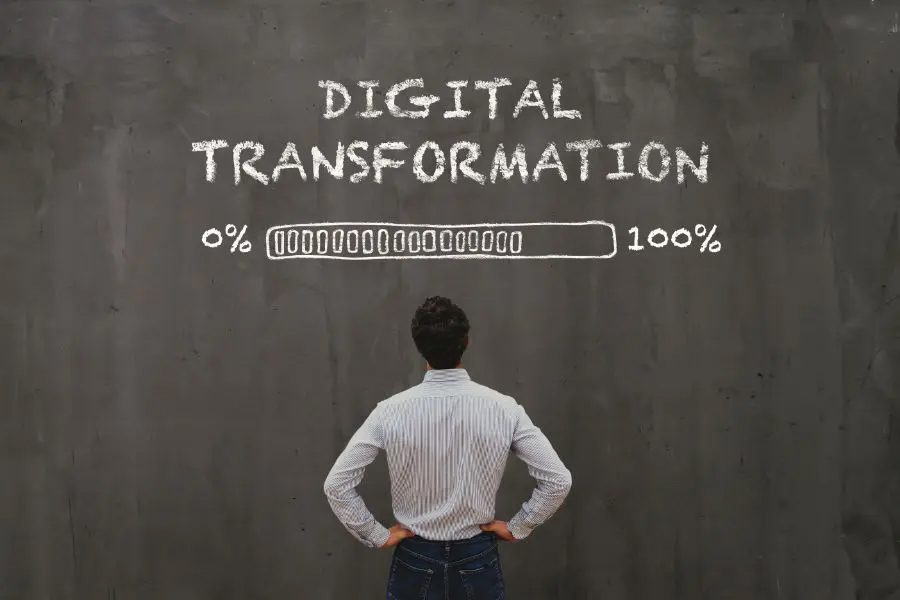 Organizations looking to make a successful digital transformation first must decide what this term means for their organization. Digitization is a term often thrown around as a catch-all to describe a company increasing the integration of digital technology into their business.
Many businesses strive toward digital transformation because they believe it adds value and makes their organization more efficient. However, according to McKinsey, less than 30% of digital transformations succeed. To organize and execute a successful digital transformation, your organization must be united on common goals and determine how to work together to achieve them.
What is a successful digital transformation?
Digital transformation is a radical change in a company's culture and operations using technology to revolutionize the way you do business. Various tools and software are employed, with greater and greater emphasis being put on artificial intelligence as a way to improve efficiency and derive operational insights.
The goal of digital transformation is both internal and external improvement, to increase productivity and performance within the organization while also delivering greater value to customers to grow revenue, relationships, and retention.
There are many markers of a successful digital transformation, and depending on your industry, you may use common metrics to evaluate ongoing progress, such as:
Percentage of processes designed for the cloud
Revenue attribution
Innovations brought to market
New customer conversions
While these metrics may be helpful, what's more important during a digital transformation is to ensure that the process works for your organization and offers results that enable and encourage business growth.
Unfortunately, many organizations—even those that seem to be digitally savvy—have low rates of success in this area, with success rates that rarely exceed 26%.
Of course, there are many factors at play here, including the size of your organization. Companies with fewer than 100 staff are 2.7 times more likely to see success in their digital transformation than larger, more spread-out organizations with tens of thousands of staff.
Digital transformation examples
While the rate of success may be low, a successful digital transformation, even at a large scale, is entirely possible.
Farmers Insurance
One great example is Farmers Insurance, a company founded in 1928. While they still employ tens of thousands of insurance agents, they now use drones and other smart devices to conduct many risk and damage assessments. The data from these drones can be quickly transmitted to the company cloud using Internet of Things (IoT) technology, where it can be analyzed instantly and an assessment made.
This digital transformation enabled Farmers Insurance to offer more accurate results to customers and cut down on hazardous work for their agents.
Target
Target is another organization that has engaged in a long-term strategy for digital transformation. Starting in 2006, they introduced online ordering, added more technology to their stores, and transformed their online social media and web presence to make it more customer-friendly.
This successful digital transformation resulted in a $6 billion increase in revenue since the beginning of their digital transformation efforts.
What are the 4 main areas of digital transformation?
Companies may use several central pillars as a framework to organize their digital transformations. These vary by organization, and not every one may be applicable to your current situation. However, going through each is helpful to see how other organizations have found success in the past.
IT Uplift
This represents the drive to modernize the inter-organizational IT environment. There are many ways to make this happen, but most digital transformations involve switching to new, flexible IT platforms, technologies, and tools such as AI that offer more capability than older systems. These new tools can help reduce costs and enable greater flexibility, making it simpler to move forward with other aspects of digital transformation.
Digitizing Operations
Once the new IT technologies and tools are in place, organizations can move on to digitizing their operations. This involves examining existing business processes and determining how to optimize them to ensure greater efficiency, cost reduction, and overall employee and customer satisfaction.
This step requires robust knowledge of overall business processes, along with a team capable of determining the change management principles needed to revitalize operations.
Digital Marketing
Digital marketing entails taking advantage of new avenues for customer acquisition and communication with clients. Whether your organization delves into new strategies for content creation, paid ads, or takes advantage of social media, there are many ways to create a dynamic new digital marketing plan.
This requires individuals who can track data analytics and apply these insights to the ongoing business plan. If this phase is successful, many new customers can be informed about the organization, with conversions, impressions, and sales rising as a result.
New Ventures
Once the existing processes and technology within the organization have been brought into the digital transformation, companies can use the same principles to start expanding into new ventures.
This includes everything from new products to new business models. These growth opportunities offer businesses the chance to create more value for existing customers while opening the company up to new markets, ideas, and customers.
How to implement a successful digital transformation
Implementing a successful digital transformation is a thoughtful process that can take years. An important indicator of success is having a plan that your team can follow to ensure the project remains on the right track.
Here are some of the steps that we suggest organizations take before implementing their digital transformation.
Build a strategic team
Developing a plan for digital transformation begins with your team. If there's no one at the wheel, it's challenging to know whether the plan is on the right track.
The best digital transformation planning team is cross-functional and drawn from different departments and levels of your company. This ensures that all views are represented and offers perspectives that may not have been considered if the team all came from one department.
Evaluate your current strategy
Once you have your team in place, their first task should be evaluating your current strategy. This is critical to ensure that problems and areas of concern are identified. By slowly going through company strategy, workflows, procedures, and practices, it's easier to determine the scope of your digital transformation efforts.
Knowing the current state of your company makes it much easier to build a plan for how digital transformation will address all current shortcomings.
Develop a plan
Once the digital transformation team has gotten a sense of the organization's current practices, policies, and workflows, the next step is developing a plan to integrate digital transformation into all these areas.
This step may be the longest, but it's undoubtedly the most important. The plan should lay out key steps, potential benefits, and ways to reduce risk. It should also showcase a potential timeline for suggested goals to help hold the team accountable and provide context for changes to colleagues within the company.
Get top-down buy-in
Once the team has gotten their plan together of how they suggest implementing the company's digital transformation, the next step is presenting it to various stakeholders throughout the company for their buy-in.
This should begin with the C-suite, but we've found that most successful digital transformations also involve bringing in stakeholders at various levels of the company, from the top down to the bottom.
By informing company stakeholders of their intentions early on, the digital transformation team can ensure their support moving forward.
Build a project team
Often, the team responsible for planning the digital transformation and the team responsible for implementation are not the same. Each task requires different skills.
Once the plan for digital transformation has been approved, the next step is building a project team that can take the plans and turn them into reality. Most commonly, a digital transformation project team involves members of the C-suite, managers, staff, and third-party vendors.
Develop a timeline or schedule
Once the project team has been installed and has become familiar with their colleagues, they should begin work on a more accurate timeline or schedule. This document should go into more detail than the initial timeline created by the planning team and should list both short and long-term goals.
From there, it's much easier to create lists of priorities, responsibilities, and benchmarks for every person on the team.
Work with the right providers
Most of the time, instigating a digital transformation requires assistance from outside vendors, who can work alongside in-house staff to roll out new technology innovations and tools. Depending on your needs, this could include everything from cloud providers to new software vendors.
3 common pain points in digital transformation
The road to digital transformation isn't always easy. Here are some of the most common roadblocks to success that your team may encounter as you move towards digital transformation.
Lack of buy-in
One of the most significant digital transformation pain points is a lack of buy-in from within the company. This can occur in any department, at any level. Making a transformation of this size and scope will undoubtedly change the status quo, and this can make people uncomfortable.
Discussing potential benefits early on will help your staff see that digital transformation has real, applicable advantages. Additionally, sharing your current project timeline and schedule can also help reduce feelings of frustration and insecurity that can lead to a lack of buy-in.
Slow ROI
While we may want to see rapid ROI once we get the digital transformation project going, the reality is it can take a long time to achieve – even years. Slow ROI can frustrate stakeholders at every level of the company and make them feel like all the efforts they've put into the project have been for nothing.
Unfortunately, there's no good solution other than to continue prioritizing communication and sharing benchmarks and goals whenever they're met, no matter how small.
Data confusion
One of the reasons why companies endeavor to go through a digital transformation is to give themselves access to more valuable data. However, if they can't keep the data clean or use it effectively, this information is not useful.
Organizations should prioritize keeping data clean and capturing only as much as they're prepared to use to avoid data confusion. Implementing technology with AI and machine learning capabilities can also help enrich data to enable organizations use this data well.
How to maintain digital transformation success
The truth behind digital transformation is that it is never over. Specific steps in the project may come to an end, but every successful digital organization is always looking for new ways to support meaningful connections and encourage company growth through technology. Settling into a routine can quickly lead to stagnation.
Ideally, once the initial digital transformation plan has been carried out, the focus should switch to ways these new digital assets and tools can continue to push forward business growth.
That way, new principles like relationship mapping can be easily overlaid on top of existing technologies, boosting data quality, customer service and retention, and creating more opportunities for employee productivity.
Discovering More Benefits for Digital Transformation
There are many benefits to digital transformation that organizations can enjoy once they've successfully gotten through the initial planning stages and have created a customized strategy for their business.
Sink your teeth into digital transformation with our complete guide to navigating your digital transformation journey.
Ready to learn more about how your data can work for you during a successful digital transformation? Talk to us so you can see how it works for yourself.