Partners & Integrations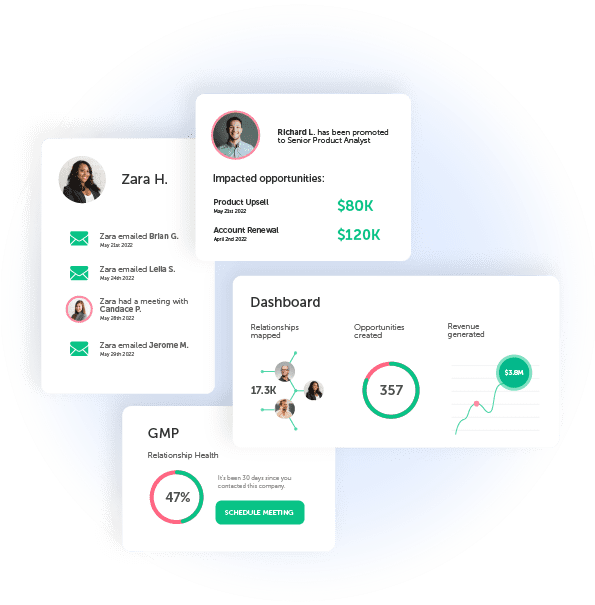 No matter who you are, Introhive has the solutions you need
Executives, Management & IT | Maximize productivity with a more effective CRM that delivers data and insights to ensure positive ROI
Marketing | Bolster your marketing database with 5X-10X more contacts to maximize campaign performance.
Sales | Win more business by automating CRM data entry while surfacing warm introductions, customer intelligence, and AI-backed insights.
Customer Success | Deliver a high-touch customer experience and drive long term, profitable relationships with a 360 degree view of customers and accounts.
Let's work together
No matter what you need to accomplish, Introhive has solutions to do the job
Fix my data so I can have accurate reliable customer data in CRM and focus on revenue-growing tasks

Help me maintain an accurate record of customer data so I can retain and grow customer accounts and rely on CRM data to produce insights and grow revenue

Help me make sense of my data so I can equip our professionals with actionable customer intelligence and foster more profitable relationships

Help me equip my revenue team with recommendations so I can increase productivity, close more deals faster, and hit our revenue targets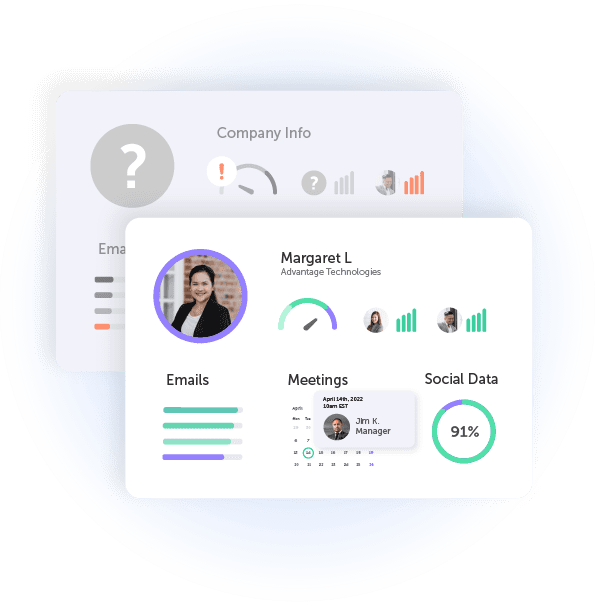 Introhive is your trusted companion

along the revenue acceleration journey
Trusted by leading revenue teams
Don't take our word for it.
Hear what our customers are saying.
Philip Grosch
Partner, Head of Global Centre of Excellence - PwC
---
"Introhive makes the process of keeping information in CRM up-to-date a lot easier, because mundane tasks and manual data entry become automated for users and professionals. The net result for our global deployment is that Introhive has added huge value to all of our market-facing PwC professionals."
Johannes Metzler
Advisor, Strategy and Projects - Edge Technologies
---
"We use Introhive to uncover who we know and interact with in the outside world. Also, Introhive helps us to sync relevant contacts and activities to Salesforce with three clicks of a button, thus saving us a lot of time on this front."
Neven Bradasevic
CRM Manager, Canada - Colliers International
---
"Introhive's automation capabilities alone have saved over 78,000 hours of admin time across our 300 active advisors this year. Without Introhive, advisors would have less insights into client accounts and would be required to manage more manual processes, which would further hurt our adoption of CRM."
Maxie Hernandez
Marketing Automation Lead - Kaufman Rossin
---
"You can do it the Introhive way—where data capture is automated and users can easily sync contact information and activities—or you can hire assistants to enter that data manually. We chose the automated way. We didn't see the value in hiring a million people to simply do data entry."
Daryl Atkinson
Director of Business Development and Marketing - Howard Kennedy
---
"With Introhive, we don't have to worry about the engagement or adoption rates of our lawyers in the CRM. Our lawyers can focus their time on revenue-generating activities, not data entry. This has resulted in a much richer view of our relationships, without adding more work for our legal team."
Colleen Moorehead
Chief Client Officer - Osler, Hoskin & Harcourt LLP
---
"Technology like Introhive enables our firm to focus on the future and collaborate with clients to explore creative ways to break new ground, advance our service offerings, and deliver more value to our clients."
Stuart Cassie
Sales, Marketing & Alliance Director - Hitachi Solutions Europe
---
"Introhive enhances our ability to successfully manage accounts and identifies key relationships with potential new business. It does this without the user having to enter any specific information, which is the challenge with CRM in general. Put the two together and it's a powerful tool to allow us to serve our customers better and grow the business"
Adelle Erdman
Executive Director of Marketing - Frazier & Deeter
---
"With Introhive, the process of identifying who knows who at key accounts is automatic. That's a big win for our firm because we are reaching clients and prospects that we have missed out on for all these years, while simultaneously reducing workload for the partners, as well as marketing."
Janet Kyle Altman
Marketing Principal - Kaufman Rossin
---
"The sales process for professional services relies on relationships. Marketing can build awareness, educate prospects, and nurture leads. But knowing who knows who through an easy, automated tool like Introhive can take us to the finish line faster and more effectively."
Our Trusted Customers
Resources
[Playbook] Navigating Your Digital Transformation Journey
Download Free Guide
INTROHIVE ANNOUNCES $100M IN SERIES C FUNDING ROUND
Read more
MARKETING EXECUTIVE ROUNDTABLE
IS YOUR MARKETING TEAM EVOLVING AS FAST AS YOUR TECHNOLOGY?
Join Now