As we move through the latter half of 2022, the macro environment is more uncertain and volatile than ever. Widespread skills shortages, rising interest rates, and ongoing merger and acquisition activity mean B2B selling is more complex than ever.
It's a strange and thorny landscape that presents risk – but also opportunity.
In this post, we'll explore some of the B2B selling dynamics in play and consider three strategies you can adopt to give your salespeople the best chance of winning complex deals and ending 2022 on a high note.
You Can't Afford to Guess
Given the converging forces in play, much discussion has been going on behind closed doors at companies of all sizes. High on the boardroom agenda are budgets. Leadership teams are scrutinizing what they spend, where they spend, and who they work with.
In this environment, you can't afford to guess about your customers and your deals. The old approach of simply "throwing things against the wall and waiting to see what sticks" simply won't cut it. This can't be your bar for the best.
Every decision you make that's based on old habits or a hunch – rather than reliable data – could lead you to setbacks that cost you dearly and are difficult to recover from.
So, what are B2B sales teams that are still winning lucrative new deals and extending existing ones doing right at a time when buyers are more choosy and risk-averse than ever?
Secret #1 – Rely on Emerging Data
Successful B2B sales organizations are abandoning any form of guesswork in their planning and pursuit efforts. Instead, they're turning to data to inform how they adapt to change, seize opportunities, and mitigate risk.
Fortunately, there's no shortage of data available, and some of the most valuable information may be found in places you'd never thought of. In fact, some 82% of buyer interactions can be captured in emails, calendars, and popular enterprise collaboration platforms like Slack.
However, you need to be clear about which elements of your "data exhaust" are most valuable and ensure that you act on the insights they deliver in real-time. That's simply not possible if you're still relying on manual data input and one-dimensional reporting mechanisms.
Sales teams that are winning are using CRM systems that use artificial intelligence to take care of all the analytical heavy lifting. They're using data-driven insights to double down on lead quality – ramping up effort where quality is strong and pulling back where it's poor.
Secret #2 Focus on Multi-thread Opportunities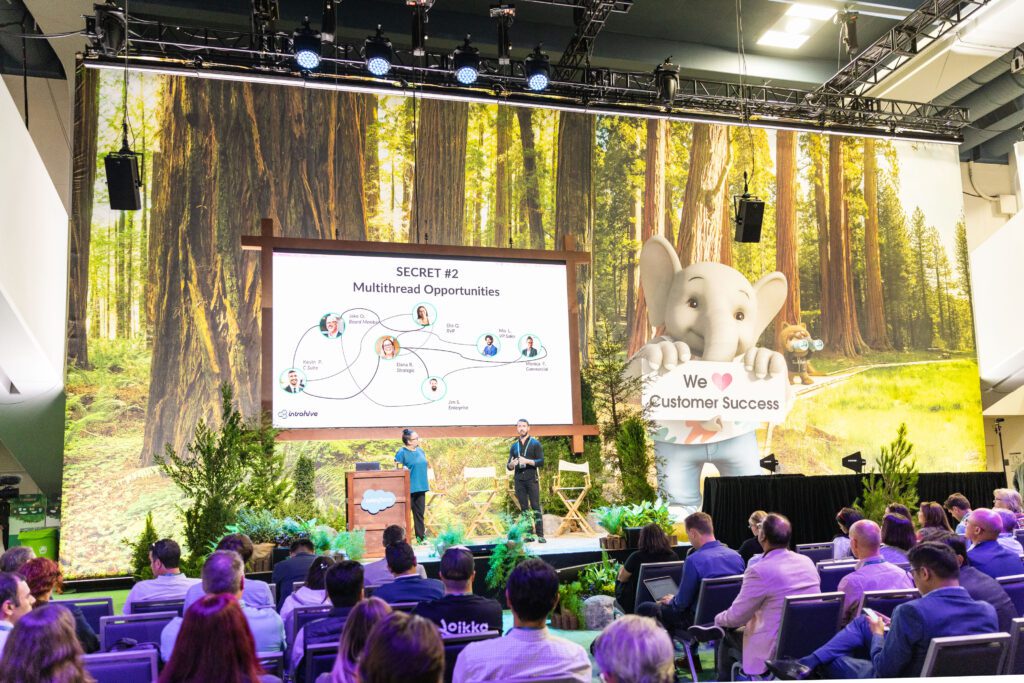 The second secret is to multi-thread opportunities. Multi-threaded sales are deals where the sales team has connections with multiple decision-makers on the customer side.
This approach is a departure from the traditional single-thread model, where salespeople tend to woo the most senior decision-makers in their current and prospective accounts, paying less attention to the broader group of influencers and users in the organization.
A multi-thread sales approach helps reduce the risk associated with B2B selling on several fronts. First, if the chances of maintaining and/or growing any of your largest accounts depend solely upon just one or two key relationships within those organizations, you'll likely run into trouble when those people's roles and responsibilities change, or they move on to work for another company. These changes don't take your sales cycle into account!
Similarly, when you're in the process of negotiating deals with new customers, there's a strong possibility that your primary contact involved in initial sales discussions won't have a say in the final buying decision or in the operational aspects of implementing your solution.
A multi-thread sales strategy mitigates these risks because, in this model, sales teams make a point of developing multiple relationships with every customer.
Employing a multi-thread approach also helps you pre-empt any interruptions to account continuity resulting from attrition in your sales team. The sales profession experiences particularly high attrition compared to other roles. The average sales turnover rate has been reported as high as 35%, compared to an average turnover rate for all professions of about 13%.
One of the reasons for the high levels of turnover in sales is that these people can pick and choose where they want to work. According to a report by LinkedIn Talent Solutions, salespeople are the second-most in-demand roles in the world today, behind only software engineers. So, you need to be mindful that if your sales pros decide to move on, they won't find it hard to land another job.
Ultimately, the more connections you have on the buying side, the better your chances of getting deals closed – and keeping them – will be!
Secret #3 – Understand, Understanding
Finally, the best revenue teams know that what we thought "understanding" our customers meant in the past actually only scratched the surface.
In days gone by, the initial stages of the sales cycle were typically slow and reactive. Moving prospects to the point where they were ready to make a deal involved a great deal of "breaking the ice." There would be a need for endless meetings, Q&A, and phone calls between salespeople and their prospects to gather the most basic information.
Today's best salespeople are far more aware of their customers' context than ever before, and they're proactive about learning everything they can from Day 1 – a discipline we call "digital pre-discovery."
This doesn't need to involve days or weeks of research. Some 67% of the answers to those basic questions can be answered by reviewing data that's been gathered earlier in the buying journey. No longer do salespeople need to play the old game of 20 questions with their prospects.
This is the true democratization of data. Now, salespeople can use their intelligent CRM platforms to cut through the noise to surface insights that are most relevant and impactful. Ultimately, this empowers them to deliver the right message, to the right people, at the right time … in the moments that matter.
If you'd like to learn more about how Introhive can help, please get in touch.