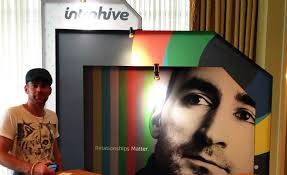 Our VP of Sales, Richard McInnis on Sunday night after our conference booth was constructed
.
Just wanted to pop a quick note up and say thank-you to everyone who stopped by the booth, chatted with us in the halls and around the conference, and especially to those of you who came by our panel yesterday.
I also want to extend a very special thank-you to Greg Owstrowski from Blackberry and Ben Doyle from Enterasys for not only agreeing to be a part of the panel, but for being so transparent and open to sharing what's working for them in their businesses.
We had some hard questions, but the result was discussion that I found really helpful. I know there are some key takeaways we can bring back to how we do things at Introhive, and I hope you came away with some new ideas too.
I've uploaded the slides from my discussion to Slideshare. There are some great stats in there about the state of prospecting, the affect that social media has had on sales, and the importance of business relationships in considering new sales hires.
Getting ready to head out the door for day 2. If you haven't stopped by the booth yet, or even if you want to come back and have a second look, we'd love to meet and talk. Come say 'hi'?