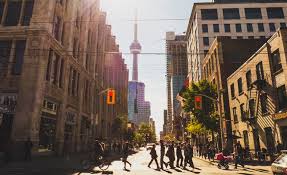 We're super excited to be back in Toronto next Wednesday for the Salesforce1 World Tour. Introhive has a soft spot in our hearts for the Toronto event; we launched on the Salesforce AppExchange at last years event.
If you're not familiar with Introhive, our platform connects the silos of relationships that live in mail, social and mobile and brings them together in one place: Salesforce. This helps sales prospect and research accounts better with less wasted time. The best part is that it all happens within CRM and email and there's no data entry.
Some of the stuff we're showing off at Salesforce1 Toronto include:
Canadian Anti-Spam Legislation (CASL) compliance with Introhive and Salesforce:
The Canadian Anti-Spam Legislation (CASL) is coming into affect July 1st and companies all across Canada will have to adjust how they prospect. Introhive can not only help fuel your prospecting activities but can make sure you stay CASL compliant along the way.
Here's a sneak peak how we help:

Introhive Relationship Analytics:
Deep Account Analytics – understand the depth and breadth of your relationship with an account.
Trend and Activity Intelligence – Determine which companies may need relationship nurturing and to follow changes and communications with accounts.
One Click Sync to Salesforce – Enhance your CRM and do less manual logging of contacts and leads.
Here's a preview:

Introhive's Salesforce1 app:
Keep up with relationships and introductions on from your phone with Introhive's app built for Salesforce1.
If you're attending Salesforce1 Toronto we'd love to show you Introhive in person or just chat. Stop by our booth in the Cloud Expo and say 'hi', or you can email me rob.begg@introhive.com.