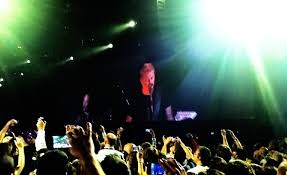 Above photo: Metallica rocks Dreamforce 2011. Were you there?
Your Dreamforce Playlist
As a kid, I contemplated becoming a DJ. I loved music, played saxophone in the school band, sang in the choir, and even made a handful of mix tapes for my friends. I never actually took the steps to chase the dream of becoming a world renowned DJ, but my love for music is still alive and well.
If you didn't know, Dreamforce is a great combination of work hard, play hard. You'll learn lots at the various sessions and you'll dance hard to the musical performances. Without further ado, here's a playlist of songs from earlier Dreamforce conferences, along with some tracks that are inspired by the conference as a whole:
The Foo Fighters played at Dreamforce back in 2008 and put on a great show. The first track on the Dreamforce Playlist is the timeless classic, Times Like These:
Metallica is one of the biggest brands in the world regardless of what you think about them. The metal attitude, and iconic guitar solos helped shape the music industry. These legends played at Dreamforce in 2011, which is why the classic Enter Sandman makes the list:
Blondie is one of the most influential bands from the 70s. With her distinct features and two-tone bleached-blonde hair, Debbie Harry quickly became a punk icon and changed an industry. Still known for being able to bring crowds to their feet, Blondie has been announced as one of the acts for this years dreamforce. Thus, your playlist isn't complete without the classic, Rapture:
As one of rock and roll's greatest songwriters and performers, Neil Young's classic, Rockin' In The Free World makes the list after speaking at Dreamforce 2 years ago and then playing a benefit for Marc Benioff's Childrens Hospital. It's a classic and is ranked by Rolling Stone as one of the greatest songs of all time.
With Dreamforce being held in California, it only makes sense to include the Red Hot Chili Peppers classic Californication on this list. The Chili Peppers played at Dreamforce last year and delivered what many described as an epic concert.
MC Hammer was one of the opening performances for Dreamforce 2012, and he brought back both parachute pants and physics defying dance moves with this classic, U Cant Touch This:
Green Day got their start in the San Francisco Bay Area, but it wasn't long before their name was recognized globally. In a few short years, they became one of the best-selling groups of all time–selling over 75 million albums worldwide. As this years headline, no playlist is complete with their record breaking single, Boulevard Of Broken Dreams:
Finally, you should also include a few Black Eyed Peas songs on your playlist… Whether it's Boom Boom Pow or I Gotta Feeling – You can be sure that you won't be the only one with a handful of their hits on your Dreamforce playlist:
http://www.youtube.com/watch?v=roNsn2dDrp4
What other songs will you sync to your spotify account or iTunes?
Introhive's booth at Dreamforce will be #N1330. We'd love it if you stopped by to say 'hi'. Check this special Dreamforce page for details, and to follow along with all of our blog posts, recommendations, and recaps.