Customer Intelligence is about to change the game. Be part of this chapter. 
In a changing environment, your customers are forever.
In today's world disruption is both sweeping and fast, making it much more challenging to keep your customers first. In this midst of this rapid change, Introhive sought to understand what organizations like yours need the most in order to navigate today's market and continue to sustain their competitive advantage.
We learned from our conversations most organizations are looking to optimize and grow their strategy & operations to become more customer-centric to find, win, and grow their business. As a result, we are changing the game. Your game.
Introhive is evolving to focus on providing you the insights and intelligence that give you the competitive edge to maximize the value of your organization's relationships today. We're calling it: Customer Intelligence.
Watch Introhive's Director of Product Marketing, Julie Taylor with this on-demand webinar and learn:
What is Customer Intelligence and why does it matter,

How it uncovers unknown relationships within your business, and

A strategic vision on how to transform data into dashboards, notifications and scores to help augment your prospect & customer growth strategy.
Meet our speakers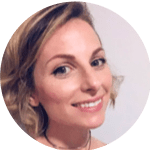 Director of Product Marketing