Find
new business within your relationships that influence revenue growth
Discover relationship insights within your business network, and build more connections with customer accounts to strengthen loyalty and retention.
Map relationships across your business to engage prospects faster
Spot untapped revenue opportunities with activity and contact capture
Map relationships to speed up introductions into new accounts
Track your buyer champions to nurture repeat business
Increase the completeness and accuracy of your CRM data for sales and marketing
Transform customer data into insights that reveal every revenue opportunity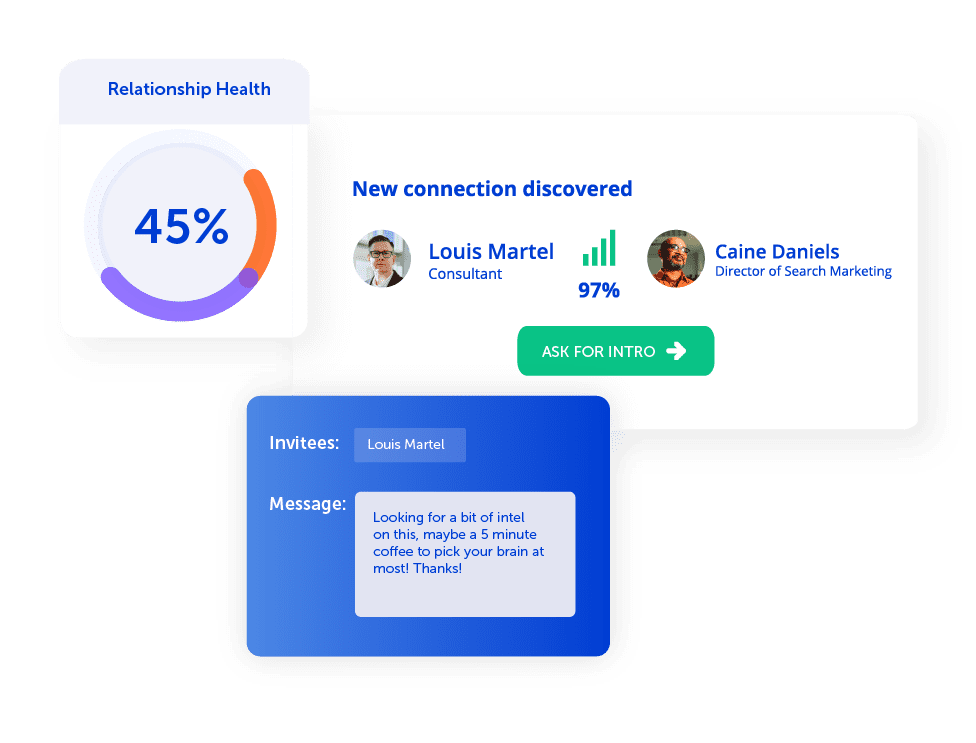 Customer success stories

Introhive customers have discovered new opportunities and substantially boosted revenue with the help of our easy-to-use customer intelligence platform.
30% increase in revenue
Over a 3-month period, a top 4 largest global accounting and consultancy firm implemented Introhive in their advisory practice and saw a 30% increase in revenue over other business units with the help of relationship mapping and whitespace analysis.
300% increase cross-sell opportunity
The Managing Director at a 2,500 employee professional services firm used Introhive Briefing Intelligence to discover and sell a 300K opportunity based on the customer intelligence he received before his call with senior buyers.
$1M+ in new opportunities
A 1,200 employee law firm deployed Introhive with Salesforce to map known relationships across the firm. This led to $1M in new opportunities of pipeline being uncovered via relationships on the first day of launch.
Increased deal velocity
A top 60 largest accounting and advisory services firm had an opportunity open for a year that had gone stale. Introhive was able to identify that the CEO played golf with an executive at the company, and they were able to win the opportunity within two weeks by driving greater executive alignment.
Champion tracking
Mitigate the risk of losing customers or deals in a sales cycle by identifying when your key contacts change roles, leave the company, or join a new one.
Champion tracking immediately notifies the relevant people in your business of job changes via alerts to quickly salvage an open deal, congratulate your buyer on their promotion, or pursue a new sales opportunity where your buyer champion moved.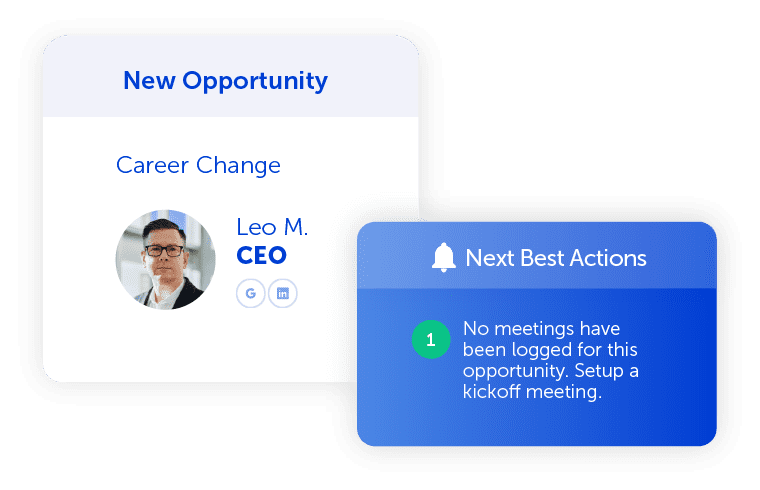 Whitespace insights
Introhive enables insights into untapped accounts where relationships exist, and identifies growth opportunities within accounts where there are cross sell or upsell opportunities.
White space analysis provides leadership with a clear pathway to selling into new accounts, industries, or regions where you have established relationships.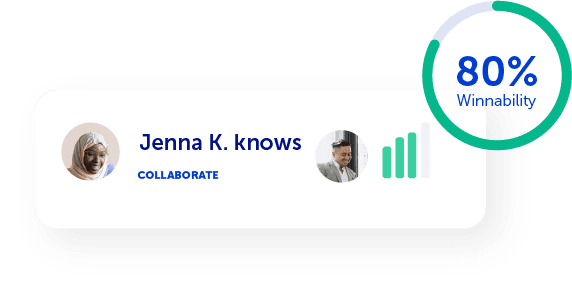 Relationship portal
Quickly reveal who knows who, and how well, throughout your organization to leverage warm introductions and referrals that accelerate the path to revenue.
Relationship intelligence enables teams with the insights to build hyper-targeted campaigns by searching and filtering by industry, geography, size, and connected colleagues, as well as relationship strength scored using machine learning that takes into account 20+ inputs including volume of emails/meetings, seniority, frequency, and response time.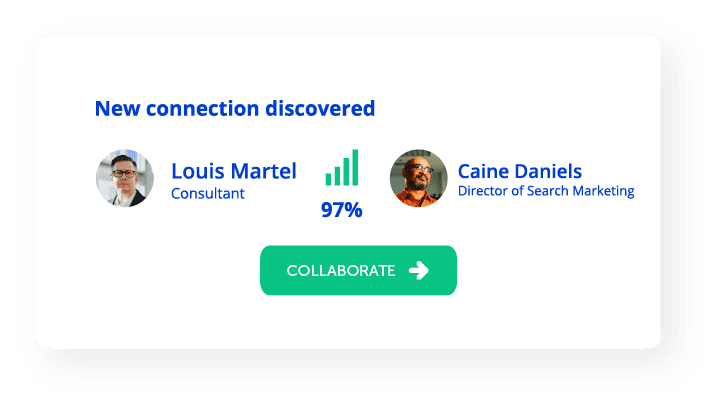 Don't just take our word for it, hear what our customers have to say
With Introhive, the process of identifying who knows who at key accounts is automatic. That's a big win for our firm because we are reaching clients and prospects that we have missed out on for all these years, while simultaneously reducing workload for the partners, as well as marketing.


Adelle Starr
Executive Director of Marketing
The most helpful part of Introhive is seeing who knows who across our company, so we aren't competing for the same business as much and we can be more strategic about business development efforts.


Marc Kirshenbaum
Associate Vice President
As a law firm, time is money. Introhive allows our fee earners to both keep their contacts up to date in our CRM system while reducing the amount of time and effort required to do this. We are saving on average 3-4 hours a week of what would otherwise be lost chargeable time per fee earner.


James Hood
Head of IT
Award-winning software

Introhive is an award-winning software company that helps B2B businesses unlock growth at every stage of their customer journey; increasing lead generation, opportunity management, and customer retention.
Start finding new pathways to grow your revenue with Introhive
We are uniquely positioned to help your organization build more effective customer relationships and improve decision-making.
FAQ
Lead generation is the process a company implements to identify, capture, nurture, and convert potential customers to sell a business's products or services.
Introhive taps into a business's communication platforms – email, VOIP, calendar – to help identify leads that exist within employee networks. Leads can be mapped to CRM for sales and marketing to use for campaigns or outreach.
Introhive looks at email communication to reads available signatures and known contacts in address books, and tracks call activities via VOIP and calendar appointments to identify leads and contacts with a relationship. Those leads and contacts are mapped into Introhive and customer relationship management (CRM) systems via automated routing rules or via proactive notifications to the relationships manager who can directly sync new data with collaboration tool APIs.
Yes, Introhive's GDPR compliance program is led by our in-house General Counsel and Data Protection Officer. We stay ahead of the curve and can ensure that Introhive and our sub-processors are compliant to all pertinent privacy legislation, including CCPA, in order to mitigate risk for the organizations we support. Introhive is a data processor, and customer data is both owned and controlled by our customers (The Data Controller). You can review specific data privacy guidelines here: GDPR, CCPA, CASL, and PIPEDA. View Introhive's Data Privacy and Security Policy here.
Marketing teams benefit the most from having access to the 5-10x the number of known, data compliant leads and contacts that Introhive maps into CRM. Leads can be used for email marketing or targeting campaigns. Many Introhive customers use this data to run relationship-centric marketing campaigns that personalize experiences for targets to improve experiences and conversion rates.
Sales and business development representatives benefit from being able to see known connections between colleagues and leads to speed up an introduction. Many business development teams use automated outreach platforms like Outreach or Salesloft, which can be fueled by Introhive's lead generation mapping tool. Salespeople and account executives benefit the most from mapping larger lists of known buyer contacts at a key account to multi-thread level to discover a larger circle of influence with regard to an opportunity.