Since adding Introhive's Customer Intelligence to their CRM, LBMC has seen several positive outcomes for their firm in the areas of technology adoption, data accuracy and relationship intelligence.
LBMC is the number one professional services firm in Tennessee and within the top 35 in all of the United States. They are a client-focused organization, rooted in entrepreneurialism and growing with their clients. Data collection is a huge part of their growth strategy, and as a fast-growing firm, they were facing a couple of significant business challenges.
Customer intelligence was their solution.
Business Challenges for LBMC
Outcomes of using customer intelligence
Business challenges for LBMC
Challenge #1: Lack of accurate and complete client data in CRM
This might sound familiar. LBMC migrated an older customer relationship management (CRM) system into their Microsoft 365 system in 2016… and it didn't go as well as hoped. While data was scrubbed by the IT team, a significant amount of duplicate records or dirty data was carried over to the new system, and the duplicate detection feature the system did offer was turned off.
On top of that, the manual data entry for CRM was put on the shoulders of the marketing team and administrative professionals. While they did this to the best of their ability, there was no real ownership of data integrity. The lack of understanding of the importance of clean data and client contact information resulted in a dirty database and a lack of trust in the information available. Plus hours and hours of manual data entry by people who, frankly, had much better things to do with their time.
Challenge #2: Resistance to data sharing but demand for client intelligence
LBMC found that many people at the firm were resistant to giving up their own accounts and client information. This created communication silos and resulted in situations where proposals were going out to clients deemed as "new," but in reality, they had already formed relationships with someone at the firm—which looked unprofessional.
Due to these mix-ups, the team wanted access to accurate customer intelligence to help them do their jobs better, but it was impossible without everyone willing to enter their contacts into the CRM. Another big pain point was that the users only felt comfortable using Outlook, where their contacts were.
Customer Intelligence to the rescue
LBMC partnered with Introhive in 2019, looking to solve its CRM woes, get a better snapshot of current clients, and provide a resource for its accountants and consultants to grow their client base.
Introhive's Customer Intelligence Platform uses artificial intelligence (AI), machine learning and automation to help CRMs do the job they're supposed to do. Introhive takes away the responsibility of manual data entry, keeps CRMs clean and up-to-date easily, plus it maps out who knows who at an organization to offer valuable relationship insights.
LBMC found 5 big outcomes from working with Introhive's Customer Intelligence platform.
Outcomes of using customer intelligence
Outcome #1: More quality contacts in the system, from more people
Within the first year of using Customer Intelligence, the number of new contacts added to their CRM more than doubled—growing from 6,000 to 14,000. In 2022, they added the SmartSync feature and found that it dramatically increased the number of unique users. The more unique users, the more accurate the relationship intelligence is.
Outcome #2: More activities in the system from a larger group of people
LBMC saw a massive increase in the number of activities logged in the system. In fact, from 2018 to 2019 there was a 2,578% increase.
Tracking activities has helped the firm see who's been interacting most with which clients, and in what ways. As you can see below, the addition of SmartSync dramatically increased the number of unique users and contacts.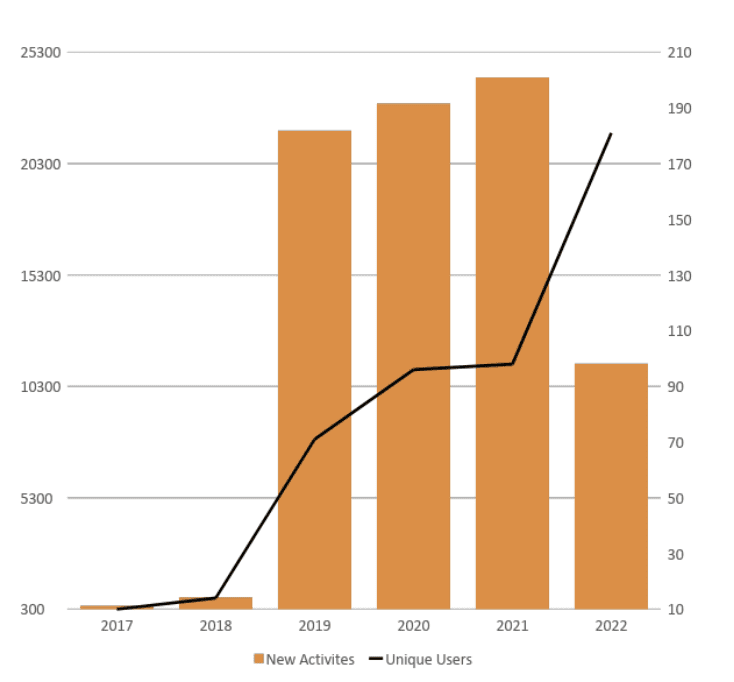 Outcome #3: More quality data in the system from senior leadership
When senior leaders buy in and use the CRM, the data can only get better and better. Senior leaders are a treasure trove of valuable client information. Since Customer Intelligence made CRM easy to use (ahem, no manual data entry) and provided revenue-generating benefits to users, senior leaders got on board.
Outcome #4: Increased trust in technology
Working with Customer Intelligence, LBMC found that project management and implementation of the system were easy. Because of customer support and ongoing collaboration with Introhive, it was easier to have everyone buy in and truly understand how it would help them do their jobs better which led to an increased level of trust of the technology across the team.
Outcome #5: Ongoing behavioral changes toward data
The shareholders at LBMC now have a bigger interest in data, reporting, and insights. They are more open to sharing all of their client information and understand that the system works best when everyone is using it. Leaders at the company are noticing that they can be more proactive in their meeting prep by using Introhive's pre-meeting digest feature and have found that their strategic projects are more data-driven. This has given them the tools they need to stay a client-focused, leading firm in their industry.
Conclusion
The implementation of Introhive's Customer Intelligence platform has been unequivocally successful for LBMC, which saw measurable results in the very first year. The biggest advantages reported by the firm are: time saved, more data entered, easier to use, and maps out client opportunities and revenue-driving information. They continue to see results, and improvements to Introhive, like SmartSync, have driven even more growth.
LBMC has found that this technology has influenced their team's behaviour and the overall corporate culture—users are now happily sharing their client data with everyone, knowing that it benefits the entire firm by giving them the ability to make data-driven decisions.
We couldn't be happier for them.
To learn more about how Introhive's Customer Intelligence Platform can help transform your firm and help you find, win, and grow business, talk to us or book a demo to see for yourself.