With Time Coach's Book of Business, you get dialed in on how you and your team prioritize the time you spend working on opportunities and managing accounts.
Why do you need Time Coach's Book of Business?
Prioritizing how you and your team spend your valuable time is an age-old challenge for customer-facing organizations. Too often your time can be spent disproportionately on smaller accounts or opportunities that distract you from making headway on high-priority deals or key customers. Unfortunately, it's not always easy to get the visibility you need to guide your team's selling or account management activities.
Ensuring that you and your team are working as efficiently as possible is why we've launched Time Coach's Book of Business View. You can quickly view your spread of accounts and opportunities, what activities you're investing in each of them, which contacts you've engaged, upcoming meetings, and who else on your team is meeting with them.
Team members and sales managers can use Time Coach to understand:
if time is being prioritized appropriately
if there are important accounts that have fallen off the radar
what attention opportunities or accounts are getting from other departments or service lines within the organization
Keeping in lockstep with this information allows you to maximize your time and deliver the best possible customer experience.
Two new views within Time Coach
The Book of Business view is split into two views within the main Time Coach dropdown menus.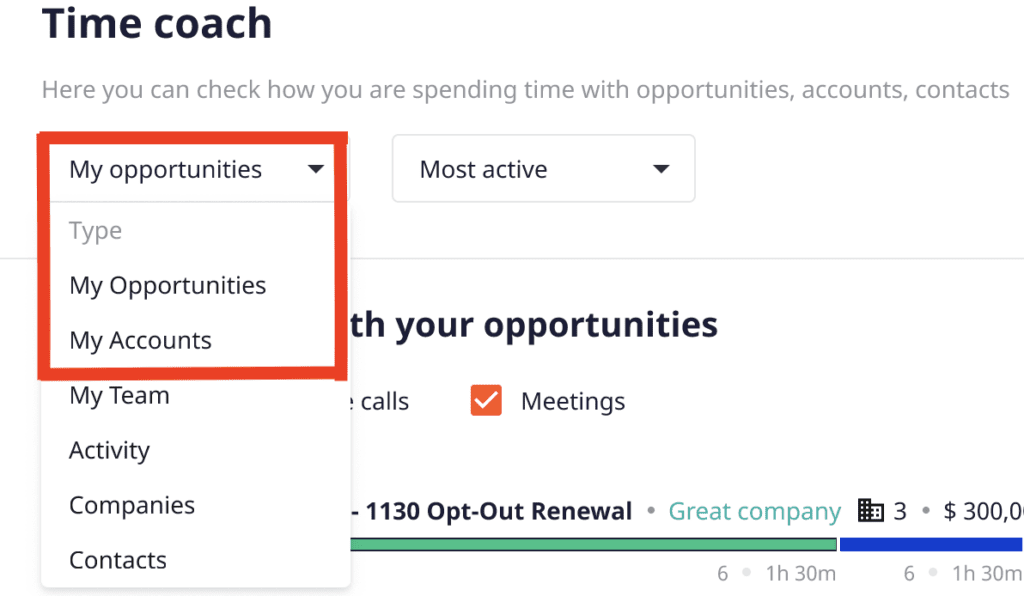 My accounts
The "my accounts" view shows the companies with which you are associated, whether they be prospects or existing customers. This is great for seeing which customers are demanding more time from you or your team. It allows you to make adjustments if an account is demanding a disproportionate amount of time compared to their AAV.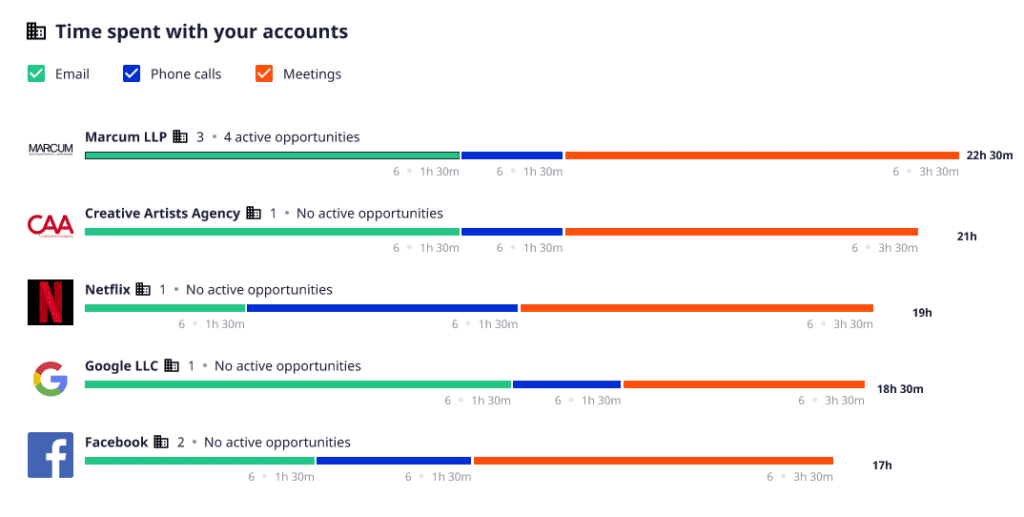 My Opportunites
The "my opportunities" view shows your balance of time spent on the opportunities for which you are associated in your CRM. This view is ideal for seeing how sales team members are prioritizing their time. Are they unintentionally focusing on smaller opportunities at the expense of more lucrative ones?
Illuminate the path to success
Time coach makes it easy to optimize where your teams spend their time and attention along with understanding the behaviours of your top performers so that you can coach everyone up to the same level. Book a demo to learn more about Time Coach.