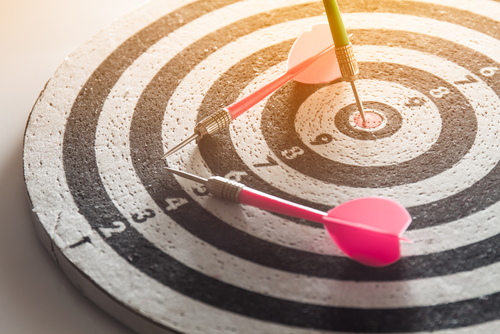 Prospecting. Cold calling. Closure rates. Deal sizes. Monthly quota attainment. The list goes on.
Your sales team has a lot of things to think about before, during, and after the sales process. And with so many tactics and tools that exist out in the marketplace, the day to day whirlwind of distractions can make it hard for sales teams to effectively reach their goals.
Fortunately, the sales enablement process exists for that exact purpose, to help sales teams achieve their goals. But what is sales enablement and why should you care about it?
If you work in sales or manage a sales team, you've probably heard the term sales enablement in a past meeting or in a recently read blog post. However, odds are that the term is still a foggy concept that you don't fully understand. Let's unpack some of the key building blocks.
What Is Sales Enablement?
The definition of sales enablement is actually very simple. It's the practice of providing your sales team with more information, tools, resources, content, training, etc. to help them sell more and sell more effectively. In other words: sales enablement is the practice of making selling as easy as possible.
Is your sales team up to speed on the latest product release features and benefits? If not, host a training.
Is your sales team presenting the brand and core messaging correctly in customer meetings? If not, create a standard presentation deck for everyone to use.
These are a few simple ideas, but how are businesses accomplishing this at scale?
To make selling truly easy, you need to equip your sales team with resources to educate customers throughout the buyer journey. This means giving your sales team everything they need to increase buyer education and ensure they convert into a happy customer.
For example, give your sales team access to content that your customers actually want to read. Or, implement helpful software like CRM, project management, or relationship analytics so your team can stay on top of their most important customer relationships and project insights.
Why Is Sales Enablement Important?
Sales enablement is important because a smoother selling process leads to — you guessed it — more sales. Smarter buyers are happier buyers, and happier customers will lead to higher customer retention. And considering that acquiring new customers is six to seven times more expensive than retaining an existing one, improving retention is arguably more important for your bottom line.
Sales enablement is also important because it can help elevate B- and C-level sales reps up a tier to increase their individual contributions to the organization. In a traditional sales model, sales managers invest in their top 20% of reps that are delivering 80% of the team's quota. The rest of the team is left to fend for themselves. With sales enablement tools and technology, every rep has access to knowledge articles, videos, trainings, and more that can help them break free from mediocre sales performance.
Because sales enablement best practices help lift up the entire team, you no longer need to be dependent on your high-performing sales reps as more reps will be hitting their numbers.
What Are Sales Enablement Best Practices?
For the most effective sales enablement program, there are a few best practices you need to follow to ensure success.
1. Focus on the Customer Experience
According to thinkJar, 67% of consumers cite bad experiences as the reason for churn. Therefore, you should focus your sales enablement efforts on improving the customer experience for your best chance at holding onto your existing customers. For example, you can help your sales team personalize their customer communications, listen for customer feedback via social media channels, and provide value to customers through new tools or training to help increase user adoption after the sale. This customer-centric approach to sales enablement will help your sales team engage with customers and build better and longer-term relationships.
2. Share Compelling Content Before and After You Close a Deal
We've all been there. You are in the process of buying something personally or professionally; maybe you are renting office space, buying a new car, or software for your business. The sales team is bending over backward to make the deal happen. Daily follow-ups, emails with customer references and relevant content, onboarding templates, you name it. Then the deal closes and communication flatlines. The next time you will likely hear from that sales rep is when your contract is set to renew.
Where most sales organizations fail is to maintain the ongoing relationship after the ink has dried on the contract. Ongoing customer engagement doesn't need to move mountains. A simple monthly e-newsletter or a reminder in your CRM to follow up with a phone call every two months can have a major impact on the longevity of that customer relationship.
Content is one of the best ways to bring value to your customers and it is a sure-fire way to continue to build a long-term sustainable relationship that will continue to bear fruit for your bottom line.
Make sure your team is creating and sharing high-quality content that is relevant to the needs of your customers. To make it extra simple for your sales team, give them a round-up of relevant content they can share, as well as when to send it and who to send it to. If you can accurately map your prospects and content to relevant stages of the sales cycle, your sales team can move people through your buying stages more efficiently.
3. Make Sales Enablement a Part of Your Team Culture
If you can make sales enablement a part of your sales culture, your team can constantly adapt and evolve to increase their selling efficacy. Show your team that you value their professional development by encouraging them to attend skills workshops, industry conferences, networking events, and more.
Or, take skills development in-house by offering continuous sales training and curriculum. Your current high-performers can lead the trainings and offer more relevant best practices or strategies to their teammates.
How Can I Measure Sales Enablement?

Like most business processes, successful sales enablement programs will require a lot of moving parts to affect your entire sales organization, which can make it hard to track. And, yes, it needs to be tracked. To help you measure your success, here are four steps to measuring sales enablement at your company.
Step 1: Set a Measurable Goal
The first step to measuring sales enablement is to set a measurable goal. Without a goal to track towards, you'll never know if your efforts were successful or not. To identify a good goal, take a look at your current sales performance and identify potential improvement areas.

For example, you might aim for your sales team to reach 110% quota attainment this quarter. Or, you could forecast to improve your customer retention rate by 5% by the end of the year. The main thing to consider when setting your goal is that it is measurable and the team feels accountable for delivering on the success of that metric. To ensure success, meet regularly as a team to review how that metric is tracking and make adjustments where necessary.
Step 2: Establish a Sales Performance Benchmark
Before you move on to actually measuring sales performance, you need to establish some benchmark metrics. To set a baseline or benchmark, review your current sales performance and numbers. It's also a good idea to see how your sales team has grown year over year or month over month to identify any seasonal trends or patterns. Example metrics that can help influence a larger corporate goal include average deal size, average close rates, pipeline value, retention rate, customer lifetime value, and so on.
Step 3: Track Your Sales Performance
With your goals and benchmarks set, it's time to do the dirty work and measure your team's performance on a regular basis. This means tracking each metric you identified in the previous steps and measuring how much you've moved the needle each week, month, or quarter since implementing your sales enablement program. Then, document your performance in easy to understand formats like tables, graphs, and charts that can live on a publically accessible dashboard, so you can see your progress as time goes on.
Step 4: Measure Sales Enablement Adoption
While sales success is important in measuring your sales enablement, it's also important to measure who is using your sales enablement resources. By filtering out who is and isn't taking advantage of sales enablement, you can better understand how your program is impacting performance. Plus, this helps you understand which investments you should keep or expand and which you should consider dropping.
To measure sales enablement use, speak to your sales team and ask them how often they use the resources you have provided and how effective they feel they are. Surveys are a great way to distribute, collect, and analyze this information at scale. Once you have your own team's usage data and feedback, you can make improvements to your sales enablement program, getting more buy-in from team members.
Start Helping Your Sales Team
Sales enablement is the secret to helping your sales team sell more effectively. If you're gearing up to install or enhance your sales enablement efforts, bookmark this page to guide your strategy. Then, check out these top sales enablement tools for platforms and software that can really help your team and your customers.