Grow
and retain customers
Deliver relationship insights and actionable intelligence to your teams to improve customer loyalty, lifetime value, and retention.
Maximize customer retention, renewal, and expansion
Increasing customer retention by 5% can translate into 25-95% more revenue, and because acquiring new customers can be 4x more expensive, your retention strategy cannot be an afterthought
Your loyal customers are your greatest asset and differentiator, building the single, most influential marketing channel: word-of-mouth
Introhive delivers the intelligence required to mitigate customer churn risk by nurturing your most valuable relationships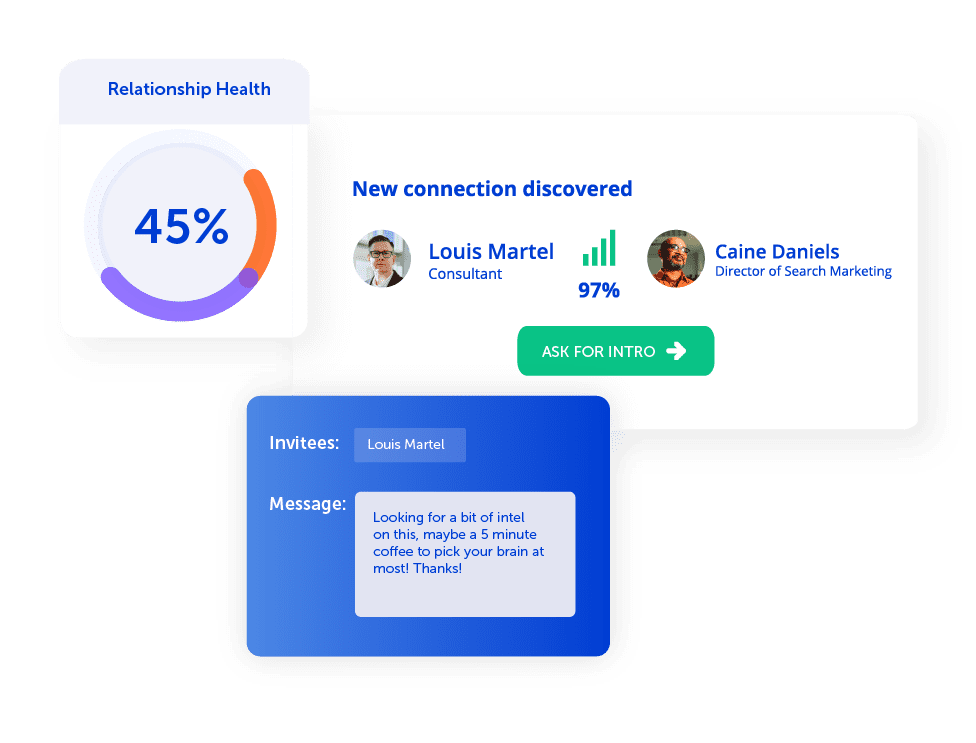 Customer success stories

Introhive customers have discovered new opportunities and substantially boosted revenue with the help of our easy-to-use customer intelligence platform.
30% increase in revenue
Over a 3-month period, a top 4 largest global accounting firm and consultancy implemented Introhive in their advisory practice saw a 30% increase in revenue over other business units with the help of relationship mapping and whitespace analysis.
300% increase cross-sell opportunity
The Managing Director at a 2,500 employee professional services firm used Introhive Briefing Intelligence to discover and sell a 300K opportunity based on the customer intelligence he received before his call with senior buyers.
$1M+ in new opportunities
A 1,200 employee law firm deployed Introhive with Salesforce to map known relationships across the firm. This led to $1M in new opportunities of pipeline being uncovered via relationships on the first day of launch.
Increased deal velocity
A top 60 largest accounting and advisory services firm had an opportunity open for a year that had gone stale. Introhive identified that the CEO played golf with an executive at the company, and they were able to win the opportunity within two weeks by driving greater executive alignment.
Succession insights
Avoid risk of client churn and smoothen account transition by assessing the relationships owned by departing employees with the help of Introhive.
When an employee quits or retires, a business is left with a large void. Who will pick up their sales territory and open opportunities?
Introhive identifies the best person to take ownership of key accounts by creating a relationships graph of all the top connected colleagues across your customers and prospects, ensuring a seamless handoff in a succession event.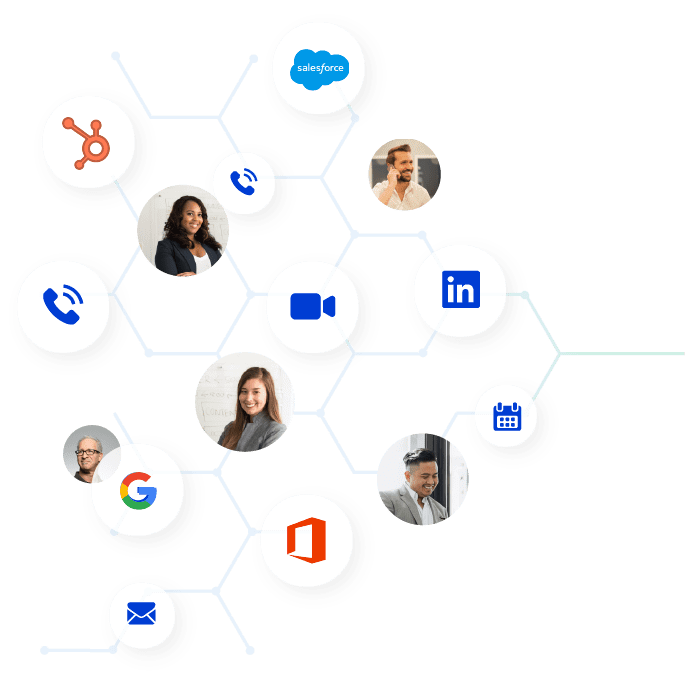 Lonely clients
Whether you are selling products or services, there is nothing worse than losing a customer you didn't even know was unhappy. Introhive helps key account managers and customer success teams keep a close tab on satisfaction, engagement scores, and relationship trends.
Lonely customer reports notify key internal stakeholders when select key accounts are at risk to improve overall customer engagement, renewal, and retention.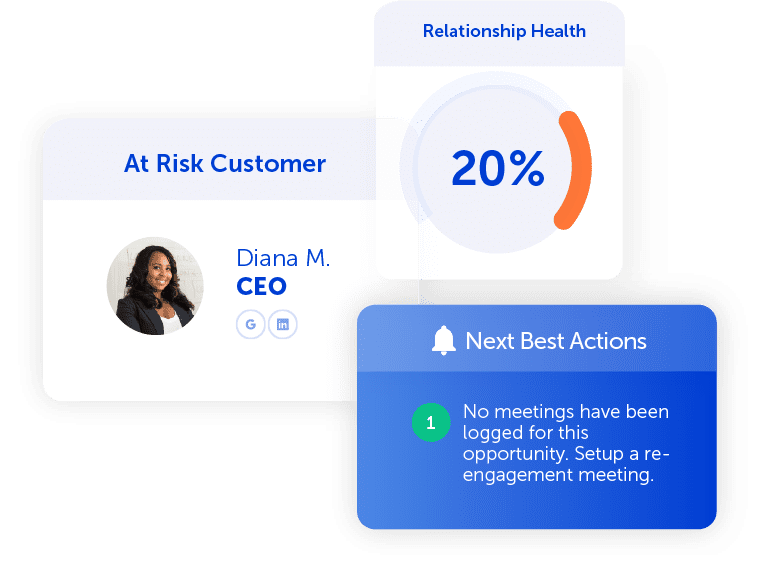 Loyalty & advocacy insights
Find potential candidates for advisory boards, loyalty programs, references, and advocacy by identifying customers with the highest relationship scores at key accounts.
Don't just take our word for it, hear what our customers have to say
Introhive adds significant value to our CRM investment. The iinsight allows us to have a "living" CRM, where information about real-world relationships and connections is accessible and actionable. The platform adds significant value to what would otherwise be a "stale" set of data.


Jamie Flores
Senior Manager of Sales & Marketing Technology
With Introhive, it is automatic. Information is gathered passively in the background so that insights and intelligence are mapped directly into our CRM, requiring little to no additional effort from our practitioners.


Harshal Dala
Director, Client & Marketing Operations
Introhive provides insights and updates into client relationships that would otherwise take countless research hours to obtain. They are easy to work with and easy to integrate with other platforms to better leverage the information.


Christy Walsh
Chief Operating Officer
Award-winning software

Introhive is an award-winning software company that helps B2B businesses unlock growth at every stage of their customer journey; increasing lead generation, opportunity management, and customer retention.
Start improving your customer growth and retention rates with Introhive
We are uniquely positioned to help your organization build more effective customer relationships and improve decision-making.
FAQ
Customer retention is a company's ability to turn customers into repeat buyers of their service or products. Customer retention is a key driver of recurring revenue and maximized lifetime customer value.
Some common threats to renewal include being stolen away by a competitor, perceived failure in delivery of the service or product, no longer needing the service or product, succession gap left by a buyer champion leaving the organization, and leaving a customer feeling neglected or abandoned post-sale.
To improve customer retention and renewal rates, you have to look at your entire customer experience. The customer experience involves everything customers think and feel when they encounter your brand, employees, products, or services.
Customer retention isn't only the responsibility of customer success or account management teams. The burden of maintaining a positive relationship and brand experience falls upon the the entire company; customer service, sales, product, service delivery, customer support, and marketing all need to work together to build customer loyalty and prevent churn.
Introhive enables customer-facing teams with visibility into customers that have declining relationship scores which could indicate a client with decreased engagement levels or the departure of a key contact.
By layering relationship trends against last interaction dates Introhive empowers firms with an objective view into the health of their accounts. Learn how to connect and grow deeper relationships with lonely clients and customers in uncertain times by reading this article.
https://www.introhive.com/blog/connecting-to-the-lonely-client-bolstering-relationships-in-uncertain-times/
Introhive relationship insights, also known as relationship intelligence, make whitespace analysis actionable by empowering firms to seamlessly spot the warmest path for expansion into existing accounts through cross-selling and upselling.
In 2021, according to the U.S. Bureau of Labor Statistics, over 47 million Americans voluntarily quit their jobs — an unprecedented mass exit from the workforce spurred on by Covid-19 that is now widely being called the Great Resignation. Historically, job loyalty has been slowly declining over the last few decades according to Harvard Business Review.
With such unprecedented turnover, businesses are not only losing the skill, talent, and resourcing that employee provided the business, but they are also losing the person's relationship network. With an average of 70% of employee relationships living in email exchange and never making it into CRM, a business loses a wealth of leads, customer insights, and relationships when their email is turned off.
Introhive helps customers map a full and complete view of all known relationships across their employees and customers. This mapping and scoring gives business managers insights into who the business knows, and how well.
When an employee quits or is planning to retire, a manager can map other top connected colleagues to ensure a seamless handoff of the customer account. This handoff reduces the risk of customer attrition and ensures longer lifetime customer value for the business.
Generating revenue is not a one-time event that happens in the sales cycle, performed by a single person. Rather, revenue is the outcome of connected events across a series of meetings, working together in a system as a collective business that is run by several cross-functional teams.
Creating recurring revenue with customers over their lifetime requires commitment to maintain relationships, continually delivering on your promised value, and helping customers prove the impact of their investment into your service or product.
This revenue growth system is dependent on the three different stages of customer growth:
Stage 1: Acquire customers
Stage 2: Enable customer advocates
Stage 3: Expand accounts, cross-sell, and upsell