Win
more opportunities
Map relationships with prospects and customers to increase deal sizes, opportunity win rates, and funnel velocity.
Increase win rates and close more deals with Customer Intelligence
Always be prepared for prospect or customer calls with pre-meeting intelligence briefs
Edge out the competition with a more efficient and effective, insight-driven revenue team
Reduce reliance on gut feel with an Artificial Intelligence (AI) backed winnability scoring
Seamlessly integrate CRM data as part of a merger or acquisition to ensure M&A success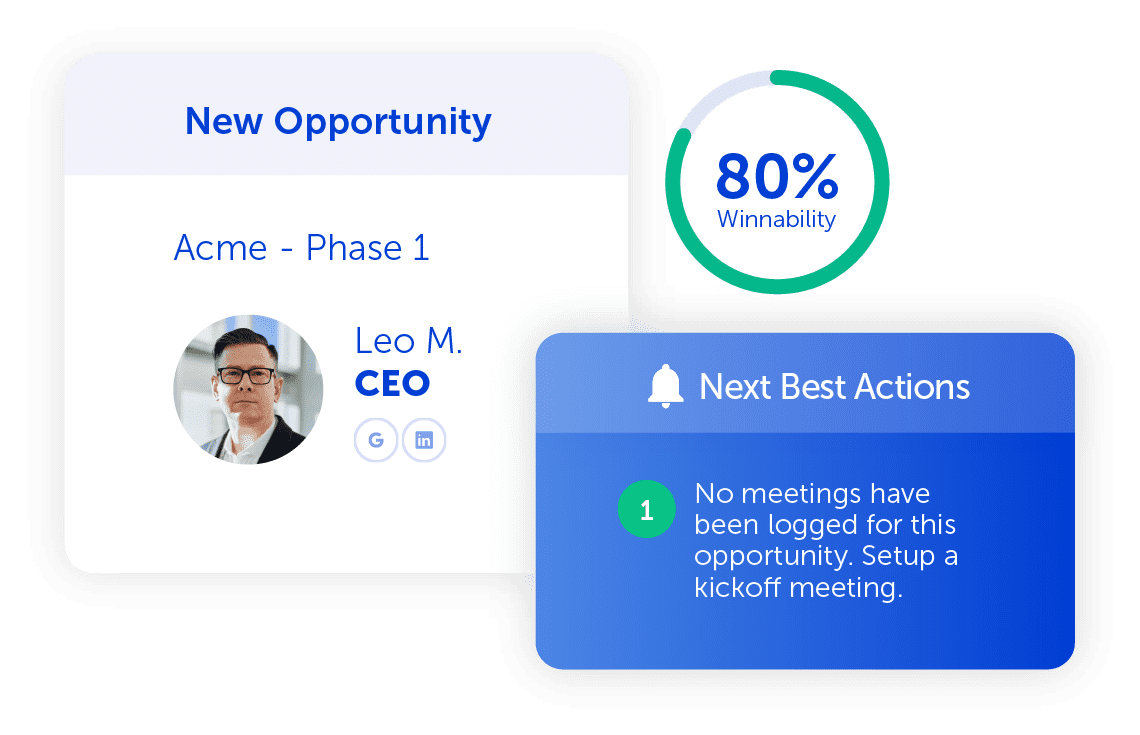 Customer success stories

Introhive customers have substantially boosted revenue with the help of our easy-to-use customer intelligence platform.
30% increase in revenue
Over a 3-month period, one of the 4 largest global accounting and consultancy firms implemented Introhive in their advisory practice, earning a 30% increase in revenue over other business units with the help of relationship mapping and whitespace analysis.
300% increase cross-sell opportunities
The Managing Director at a 2,500 employee professional services firm used Introhive Briefing Intelligence to discover and sell a 300K opportunity based on the customer intelligence he received before his call with senior buyers.
$1M+ in new opportunities
A 1,200 employee law firm deployed Introhive with Salesforce to map known relationships across the firm. This led to $1M in new opportunities of pipeline being uncovered via relationships on the first day of launch.
Increased deal velocity
A top 60 largest accounting and advisory services firm had an opportunity open for a year that had gone stale. Introhive identified that the CEO played golf with an executive at the company, and they were able to win the opportunity within two weeks by driving greater executive alignment.
Briefing intelligence
On average, 7.2 hours of your week is spent researching and preparing for sales or customer meetings. Introhive surfaces actionable customer intelligence natively in CRM, email, or collaboration tools, so you can make the most of every selling moment.
– Never show up to a meeting unprepared with pre-meeting intelligence
– Boost meeting satisfaction with more productive and insightful conversations
– Trigger digests when your team needs them most: daily, weekly, or on-demand.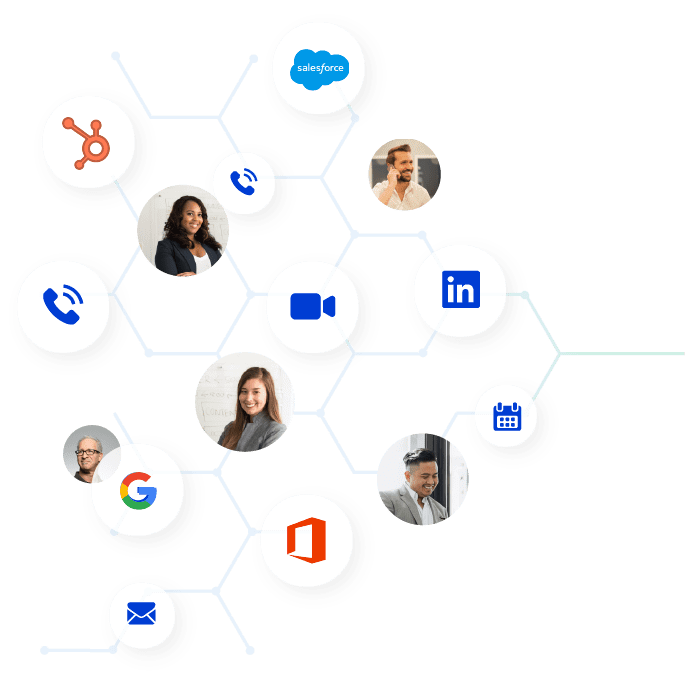 Executive insights report
Identify internal executives having strong relationships with existing or prospective clients to establish executive alignment, and win more with the influence and decision making power that comes with it.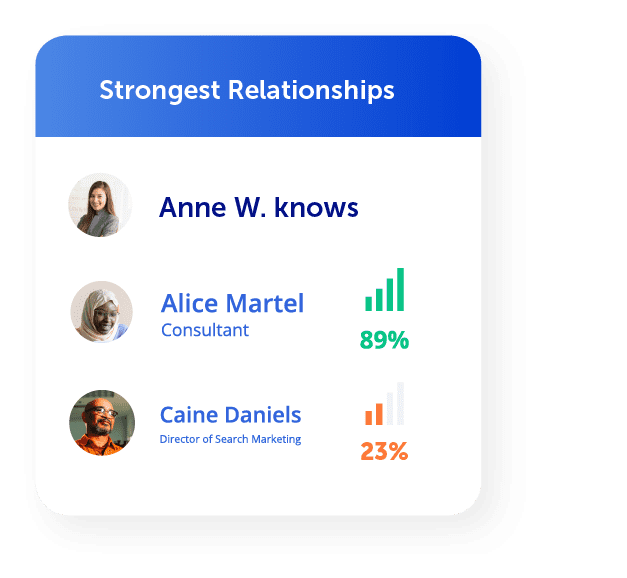 Multithreading insights
The days of one-to-one, single-threaded selling are behind us. In complex selling motions, it's mission critical to build relationships with all of the right people. Get a sightline into who you're influencing across departments and seniority levels.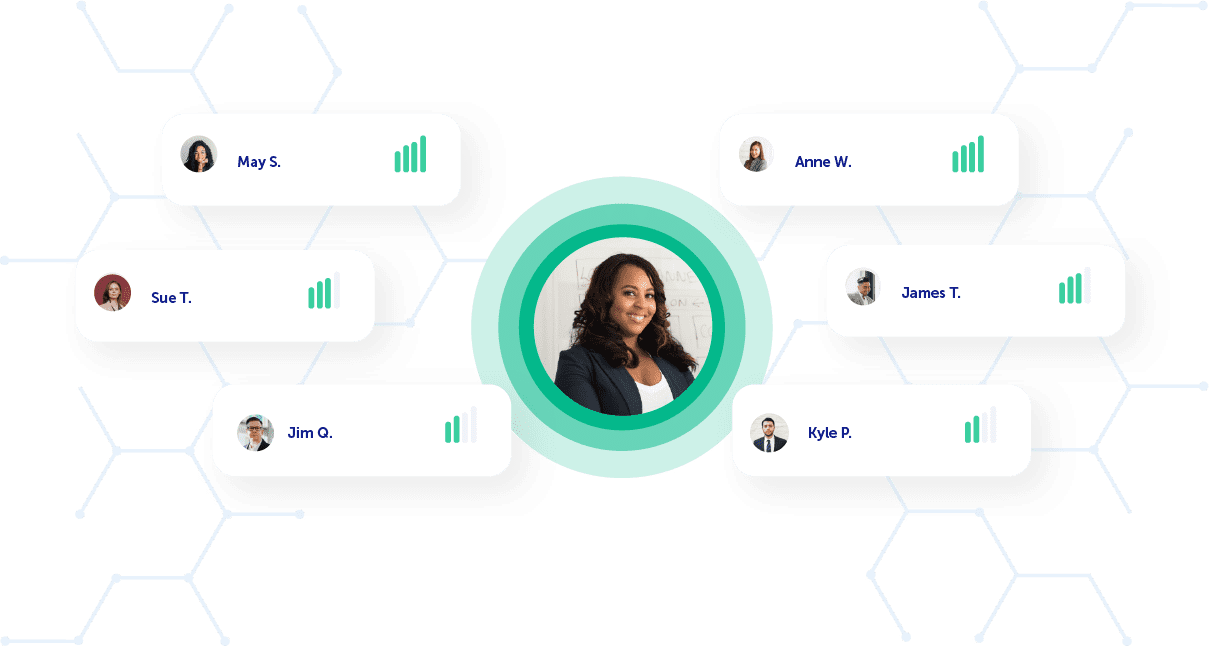 Time coach
Optimize sales team productivity and performance by visualizing how sellers are spending time on revenue generating activities including emails, meetings, and calls. Inspect data by volume of activities, time spent in select channels, time spent with target accounts, and more.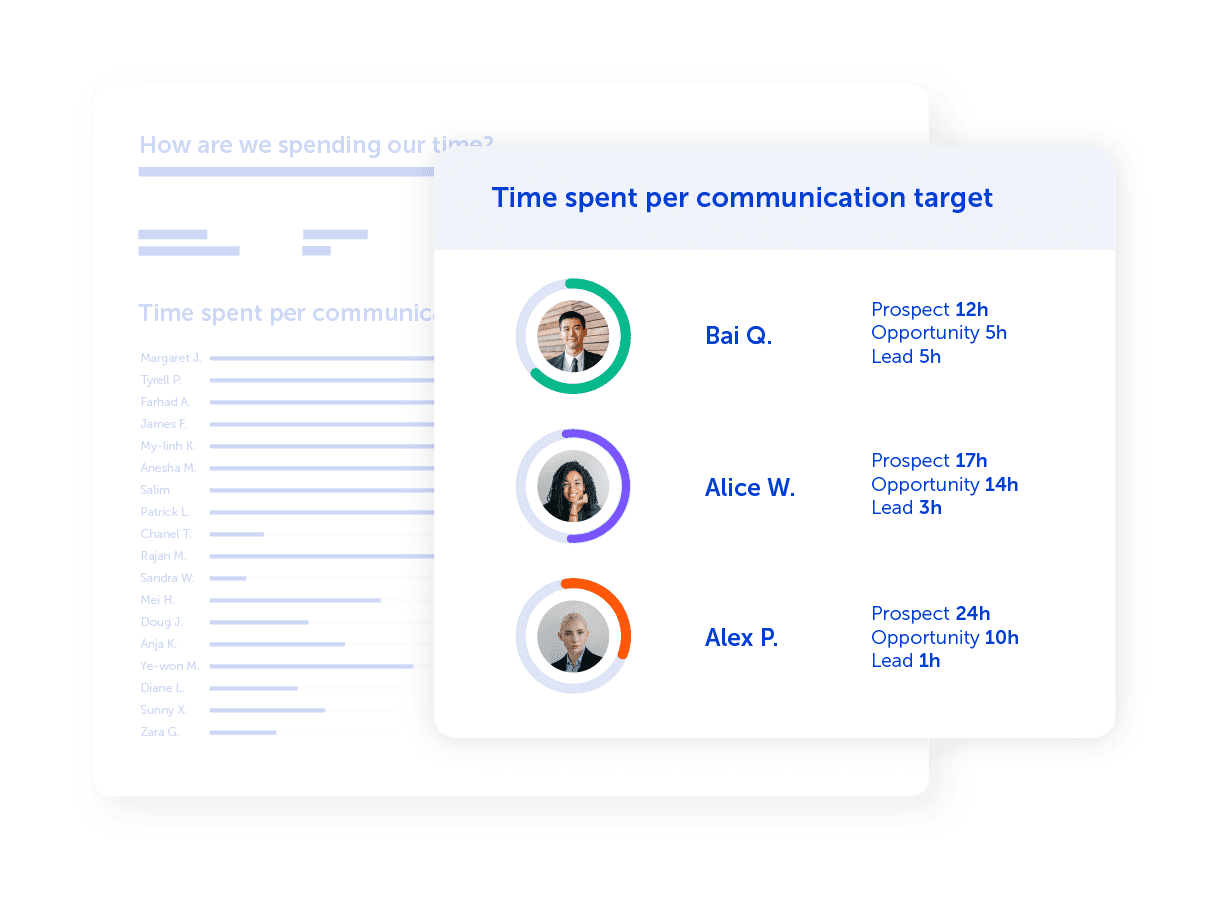 Deal coach
Deal Coach is like a GPS for your revenue team, keeping your deals on track so nothing comes between you and the finish line. Deal Coach uses machine learning to analyze your organization's historic opportunities to guide sellers toward the behaviors that get results.
– Improve the predictability of your forecasts
– Serve up next best actions to revenue teams that keep deals moving
– Reduce reliance on gut feel with an Artificial Intelligence (AI) winnability scores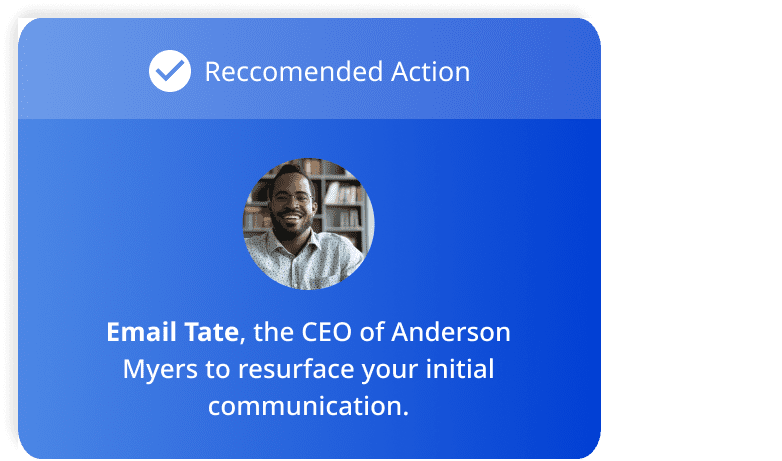 Don't just take our word for it, hear what our customers have to say
Our firm loves the transparency Introhive provides our professionals into "who knows who" relationship insights. Right after go live, our firm was able to win a new deal valued at $250,000 thanks to the Introhive platform.


Erin M. Connolly-Kriarakis
National Marketing Director – Account Management, CRM and Field Marketing
Technology like Introhive enables our firm to focus on the future and collaborate with clients to explore creative ways to break new ground, advance our service offerings, and deliver more value to our clients.


Colleen Moorehead
Chief Client Officer
At PwC, we saw immediate value and return on investment with Introhive. On day one, our professionals had an automated way to sync information into CRM and Introhive's Pre-Meeting Digests provided insightful client intelligence before meetings to help guide more meaningful, productive and profitable discussions.


Mike Hoody
Partner, Salesforce Technology, Media & Communications Leader
Award-winning software

Introhive is an award-winning software company that helps B2B businesses unlock growth at every stage of their customer journey; increasing lead generation, opportunity management, and customer retention.
Start winning more opportunities today with Introhive
We are uniquely positioned to help your organization build more effective customer relationships and improve decision-making.
FAQ
Opportunity acceleration is the process of speeding up the velocity of your sales cycle. It is a function of the overall opportunity management process for sales organizations, which is defined as tracking early stage business opportunities that are forecasted to become new sales and revenue.
The opportunity management part of the buyer journey are the stages that follow lead generation, where your prospect just learning about your brand, products, or services. Opportunity management is the later stage where you have interested leads, and they are exploring if your offering adds enough value to make an investment.
Opportunity acceleration is the process of adding multi-threading, meeting preparation insights, and customer intelligence to influence the speed of your deal.
Pre-Meeting Intelligence is on-demand meeting insights gathered from your business systems that are organized and delivered right to your email inbox before meetings with prospects or customers.
On average, more than 7 hours of sales professional's week is spent researching and preparing for meetings, limiting productivity and time spent on revenue-generating activities. Introhive eliminates the need for pre-meeting prep by delivering rich intelligence right to your inbox.
Pre-Meeting provides insights into:
– companywide activities and interactions with key contacts or accounts
– relationship insights into who know who
– latest company news
– profile intelligence on known attendees and newly invited guests
Multi-threading in a sales cycle is focused on building relationships with as many stakeholders within a target account as possible leading up to a deal. It is commonly used in account-based marketing. This process is also commonly referred to as building "circle of influence" with a prospective buyer group.
A recent LinkedIn research report shows that multi-threaded sales deals with 6+ buyers have a 7% higher close rate. The same research report discovered that 78% of sellers are only connected to one buyer at an account they are working.
An example of a multi-threaded sales deal is when your sales team has connected with multiple decision-makers on the purchasing side across a range of departments – sales, marketing, IT, procurement, CXO, engineering, etc – and varying job role levels – C-suite, VP, Manager, User level.
Overall, this approach allows for your sales or business development teams to demonstrate the value of the solution across a range of use cases and business needs. Multi-threading is a key tenant to increasing win rates and overall sales team efficiency.
According to a Gartner Research report, the average B2B sales cycle includes 6-10 people representing various roles, departments, and seniority that collectively make the purchase decision. Here are a few of the types of roles you'll need to multi-thread into your sales cycle to ensure the highest chance of winning that deal:
1. Initiators identify a company problem that is impacting the success of the jobs and escalate that issue to management (influencers) and even senior management (economic buyers). The initiator is emotionally attached the problem and likely personally invested into finding a way fit it. They are often tasked with researching a way to fix that issue. They begin the initial research and often present the first buying signal.
2. Influencers have a say in whether or not a purchase is made and what is bought. These roles are usually program, team, or functional business unit leaders that will need to help contribute to resolving the issue. The bigger the purchase decision, the wider the range of influencers.
3. Economic Buyers are traditionally senior roles within the organization and have authority to allocate budget to address issues impacting company performance. These individuals will need to be sold on the economic impact your solution, service, or product will bring to their business. This value is usually demonstrated in the form of cost savings, revenue growth, risk mitigation, and tangible return on an investment. This stakeholder will make the final decision on a purchase, but will rely on the full buyer committee's opinions on which way to solve the issue.
4. Purchasers actually buy the product for the organization. Typically, this is done by a company's procurement, legal team, or purchasing department. In some cases, where data is being processed, stored, and read, IT, security, and data privacy teams will be involved in the process.
5. Users perform their jobs with the solution or leverage the service offers and will be most impacted by the value it provides in the form of productivity and performance gains for the business. These roles will likely not be involved much in the selection and purchase process, but will be very important stakeholders once the product or service is deployed.
6. Administrators are the teams that are often responsible to the launch, kickoff, onboarding, training, and continued management of a service, product, or software post purchase. These types of roles include project managers, vendor manager, systems managers, data analysts, or program coordinators.