How do you stay current on the latest trends in CRM? There is a lot of information out there that can be difficult to parse through. It's a constantly changing and evolving industry, pushed forward by new technology.
In our minds, one of the best places to turn is the individual experts. We've put together a list of industry insiders that includes authors, speakers, c-suite executives, and other thought leaders, who can help keep you current on the latest trends.
Here are some of our favorite CRM experts to follow.
1. David Whiteside
With more than 30 years of experience as a marketing and technology expert in legal, accounting, and professional services, David Whiteside has extensive CRM experience. As the Director of Client Growth & Success at CLIENTSFirst, he is focused on helping grow the company's CRM offerings. He is also a well-known speaker in the legal marketing industry.
Follow David on LinkedIn.
2. Tiffani Bova
As the Global, Customer Growth and Innovation Evangelist at one of the leading CRM companies, SalesForce, Tiffani Bova is as involved in the CRM industry as anybody. In addition to working with international companies on customer engagement strategies, she hosts the podcast What's Next!, on which she speaks with other influential people in the sales industry. Tiffani has also been recognized with multiple prestigious industry awards, including being named a top sales influencers by Top Sales World Magazine and Inc. magazine.
3. Paul Greenberg
As an author and president of an enterprise applications consulting services firm, Paul Greenberg has built a career out of his CRM expertise. His best-selling book, CRM at the Speed of Light: Essential Customer Strategies for the 21st Century, is essential reading when it comes to CRM. As president of The 56 Group, LLC, Paul comes up with strategies for CRM use and adoption, customer engagement, strategic consulting and more.
4. Rich Bohn
Rich's Twitter bio says it best. He is the "oldest living independent CRM analyst." His first CRM review appeared in 1985, and he hasn't slowed down since. As the President of Sell More Now, he uses his decades of experience to review the top CRM solutions. He has also authored books on how to help sales professionals get the most out of their CRM.
5. Brent Leary
If you're the owner of a business called CRM Essentials, you probably know a thing or two about the industry. That's the case for Brent Leary. Brent is a thought leader on CRM, with credentials that include regular bylines in CRM Magazine. At CRM Essentials, he focuses on CRM consulting for small and midsize companies.
6. Michael Warren
As the Director for Stanton Allen, a firm providing strategic data advice to organizations implementing or managing their CRM systems, Michael works closely with clients to ensure that their CRM solutions are being used to their full potential. Before his tenure at Stanton Allen, Michael served as Project Manager for InterAction, a legal CRM system, adding to his extensive CRM experience.
7. R "Ray" Wang
The Principal Analyst, Founder & Chairman of Constellation Research, R "Ray" Wang has built an impressive career centered on how technology impacts organizations. He has held executive roles at Forrester Research, Oracle, PeopleSoft, Deloitte, Ernst & Young, and Johns Hopkins Hospital. He also runs the popular business strategy and technology blog, A Software Insider's Point of View. As an expert on business disruption and technology, he offers insight into the present and future world of CRM.
8. Michael Maoz
After 30 years of international experience, including 20 years in CRM applications, Michael Maoz has established himself as an industry expert. As a Research Vice President and Distinguished Analyst for Gartner, his research focuses on customer strategies and technologies, with a focus on CRM, including cloud-based CRM applications and analytics.
9. Dr. Natalie Petouhoff
Natalie Petouhoff is one of the most influential women in the CRM industry. She has been included on several lists as an influencer, and has built an impressive career that includes the titles of author, speaker and business advisor. She currently serves as the Client VP, Program Executive of multiple areas at SalesForce.
With 25 years of experience with CRM solutions, including as a CRM Business Development Manager and CRM Practice Manager, Danny Estrada knows CRM and how it needs to fit an organization's culture and process. Currently, Danny is the founder of E Squared, a strategy and management consulting firm helping businesses further their technology adoption.
11. Denis Pombriant
After a long career working with CRM platforms, Denis Pombriant founded Beagle Research Group, LLC in 2004. Beagle researches and advises users on CRM selection, deployment and use, as well as publishes content on emerging trends and industry news. Pombriant is also an accomplished author who often writes for major CRM publications and published the book Solve for the Customer.
12. Esteban Kolsky
Estebay Kolsky started ThinkJar, a think-tank focused on customer strategies in 2009. The company conducts research and analysis on the implementation of CRM, CEM, and CX inaitivies. He also sits on the board of advisors for the aforementioned Constellation Research, and has 27 years of experience in the industry, including eight years at Gartner.
Follow Esteban on LinkedIn.
13. Mike Fauscette
While Mike Fauscette is square in the software, tech, and digital space, he has a well-rounded resume that includes professional speaking, blogging, photography, and writing. As Chief Research Officer at G2 Crowd, Fauscette brings his vast CRM experience to create a platform and community where people connect and share their experiences with business software. The G2 Crowd reviews help users make informed decisions about business software.
14. Mike Boysen
Mike Boysen has spent more than 20 years in the CRM industry, during which time he has designed and built technologies for marketing, sales, and customer service. He became Director at Strategyn in 2017 to help companies implement his Jobs-to-be-Done strategy, which focuses on creating solutions for a specific job, rather than focusing on creating or improving an existing product.
15. Barry Dalton
With a long career working on CRM, CX, and digital initiatives, Barry Dalton has experience in a range of industries. He is currently Group Head – DIgital Medical & Advanced Analytics at GSK, where he drives the analytics and digital technology for the U.S. Medical Affairs business unit. Barry also hosts the Social Media Addicts podcast, a weekly show about the convergence of social media and business.
16. Chris Bucholtz
Chris Bucholtz has done a little bit of everything. He is CRM journalist, who has served as Editor in Chief for multiple publications. He currently works as the Senior Global Communications Manager for Cloudian Inc., where he oversees content marketing initiatives. Prior to joining Clouidan, he was the Director of Content Marketing at CallidusCloud, and he has a well-rounded technology background.
17. Peter Lavers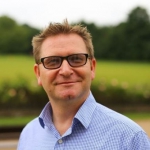 Recognized as an influencer in relationship marketing and customer experience management, Peter Lavers has appeared on several lists recognizing those in the industry. He is currently Director at WCL Customer Management Ltd., where he works with clients to help them unlock ways to improve their customer relationships.
18. Josh Greenbaum
Josh Greenbaum is a data guy. He is Principal at Enterprise Applications Consulting, where he works with organizations to understand their IT needs from the customer experience. CRM is among the many areas of his expertise. In addition to his consulting work, he also serves as the CTO of the U.S. Vote Foundation.
Connect With These Experts Today
If you're looking to further your CRM knowledge, connecting with these experts is a great place to start. They'll offer you unmatched insight into the industry.
Follow us on Twitter or LinkedIn to stay informed of the latest CRM best practices, trends, and strategies.