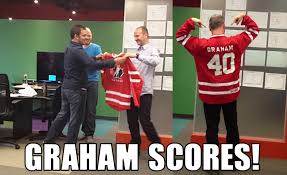 Please join us in congratulating and welcoming our All-Star Development Lead, Paul Graham.
No, not welcoming him to Introhive. Paul was one of the first to join the Introhive team, and he has been a key technology lead in the development of our service.
We're welcoming Paul in his first full day as a Canadian citizen.
In addition to the lifetime supply of moose burgers and poutine that all new Canadians receive, fellow east coast colleagues wanted Paul to have a proper Team Canada hockey jersey.
But don't worry, Paul, we'll still let you cheer for England in the World Cup.
Leave a comment for Paul?