Partners & Integrations
Find new business
You shouldn't have to send a company-wide email to find out if someone has a relationship with a particular company or contact.

Creating visibility within your network that cuts through the noise and exposes pathways into new opportunities is essential. Suddenly every lead becomes a hot one when you can always find someone in your shared corporate Rolodex to give you that warm introduction you need.

No more cold calls when it's all warm leads.
Find out for Yourself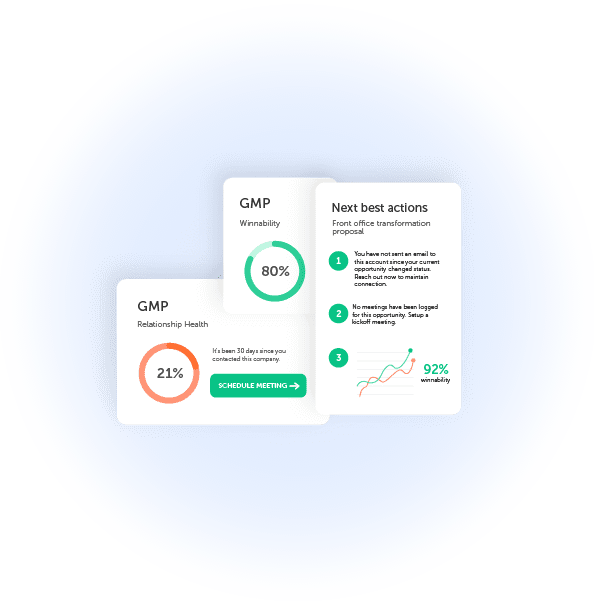 Execute better. Execute faster. Execute more.
Relationships don't happen overnight. You have to find the right people, learn about them, establish trust and a rapport, and stake your claim as their trusted advisor. This takes time and effort. A lot of time, and a lot of effort.

Break down these barriers with revenue acceleration fueled by relationship and customer intelligence, and grow through the alignment, visibility, and cross-departmental collaboration it brings.

Always be informed, prepared, and connected.
Close the deal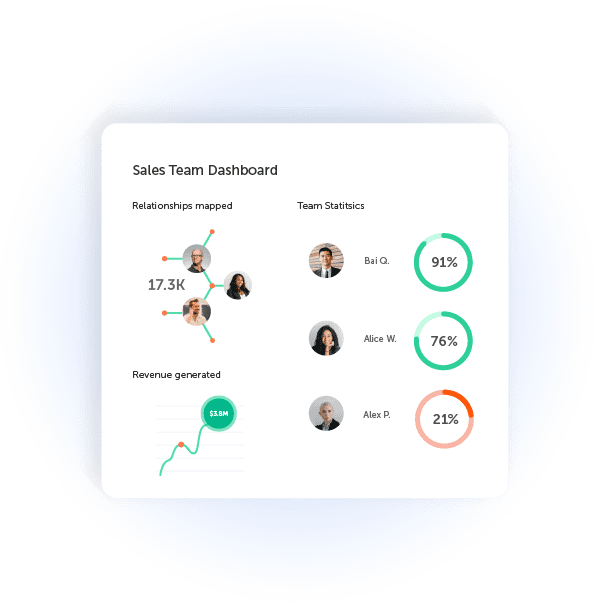 Deliver a better experience for your customers
There's nothing worse than spending all the time and effort to land a customer, only to have them turn around and switch to someone else. But rest assured, there are ways to keep customers from looking over the fence for greener pastures.

With account intelligence gleaned from a fully operational and optimally tricked-out CRM, opportunities to cross-sell and upsell present themselves—just because you've sold them once doesn't mean there isn't room to keep selling them more.

It's always the right time to retain and grow your customer base.
Stay in the Know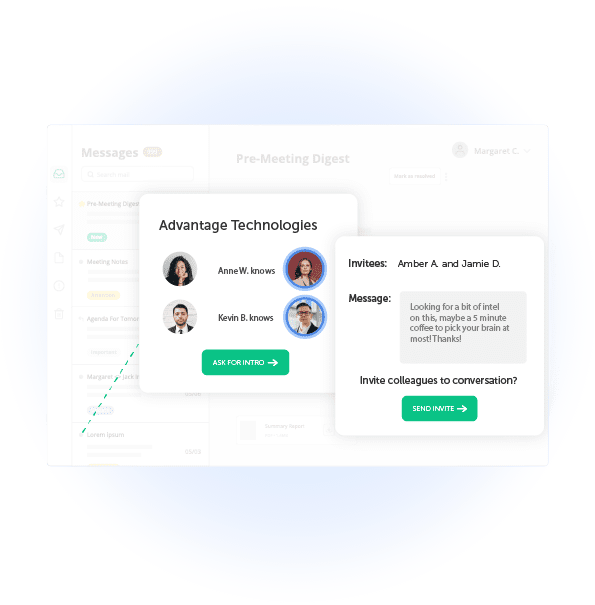 Testimonials
Hear what our
customers

are saying.
Mike Hoody
Partner, Salesforce Technology, Media & Communications Leader at PwC
---
"At PwC, we saw immediate value and return on investment with Introhive. On day one, our professionals had an automated way to sync information into CRM and Introhive's Pre-Meeting Digests provided insightful client intelligence before meetings to help guide more meaningful, productive and profitable discussions."
Adelle Erdman
Executive Director of Marketing at Frazier & Deeter
---
"With Introhive, the process of identifying who knows who at key accounts is automatic. That's a big win for our firm because we are reaching clients and prospects that we have missed out on for all these years, while simultaneously reducing workload for the partners, as well as marketing."
Harshal Dalal
Director, Client & Marketing Operations at Osler
---
"Introhive insights are delivered to our attorneys and partners via Pre-Meeting Digests before every client interaction. It allows us to be proactive - almost predictive - in the way we service clients."
John Byrne
Chief Marketing Officer at Gould + Ratner
---
"When you introduce a tool like Introhive to your firm there's no question that it raises your game, raises your internal interest and adoption of CRM, and raises the bottom line."
Nick Rubbo
Senior National Director, Clients & Markets, Strategic Planning at McCarthy Tetrault
---
"Having everything in one place, allowing our lawyers to see who they know and how well they know them, as well as a summary of all of their client activity, is pretty powerful data that they weren't able to see before."
Our Trusted Customers